Will social media situation rooms look a little different for Super Bowl LV?
By Maria Prysock VP, PR/Social Director
Will social media situation rooms look a little different for Super Bowl LV?
With the 2021 Super Bowl set to take place on February 7 in Tampa, Florida, brands and agencies are already busy trying to predict the unpredictable, in an extra unpredictable time. In years gone by, handling a brand's Big Game social media efforts meant we gathered in one social media situation room, at the ready, to act in real-time. That may not be in the cards this year. That doesn't mean situation rooms won't be happening, but it's likely they will be in different rooms and Zooms across the country.
Let's take a step back and recap the traditional, pre-COVID social media situation room.
What is a situation room?
A situation room is really a tactic that allows a team to act and react in real-time. They typically involve a great deal of pre-planning and are comprised of social media strategists, community managers, media planners, creative directors and key brand stakeholders (and legal). The idea is to get all the decision makers, creators and executors in one room so that responses can happen fast.
A social media situation room in action: The first Porsche Super Bowl spot in 20+ years.
In February 2020, Porsche had a Super Bowl commercial for the first time since 1997. The biggest difference between a commercial then vs. 2019? Social media.
With millions of Porsche enthusiasts hyped for the spot and millions tuned in for the game and talking about ads online, one of the first elements of our early planning was to ensure we'd have the right team at the ready in a situation room on game night.
Just like a Porsche, our team was about precision and performance.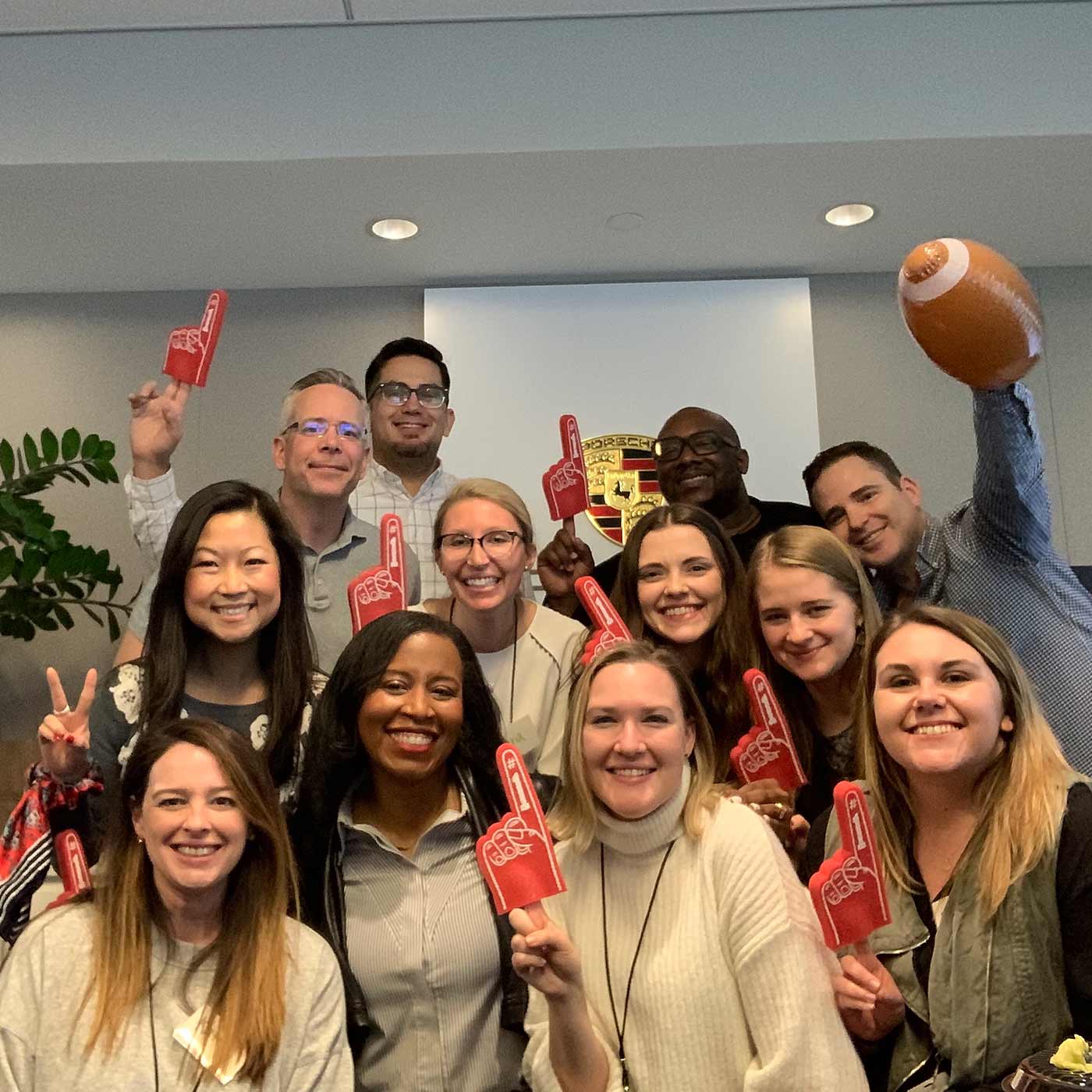 We went into the Big Game eager and ready to play. It's important to head into the situation room with clear roles for each team member. From our social media analysts reviewing online conversations to the person who hits 'publish' on the content, well-defined roles make a well-oiled team.
Together, we worked seamlessly to engage in relevant social media conversations in real-time. And, that was possible because we had a playbook.
The playbook.
A good playbook covers it all—roles, responsibilities, technical support, room layout and an action plan for every what-if and scenario that might arise during a Super Bowl.
Did we plan for a power outage? Yes.
Did we plan for inclement weather? Of course.
Did we plan for a malfunction during the half-time show? You betcha.
Did any of those things happen? Nope.
But we came in ready for almost anything with an action plan, potential creative executions and responses. And for the moments we couldn't plan for, we had team members monitoring trending conversations and brand conversations for opportunities to strategically engage.
Touchdown! Our Super Bowl commercial was a success…it was also "The Heist."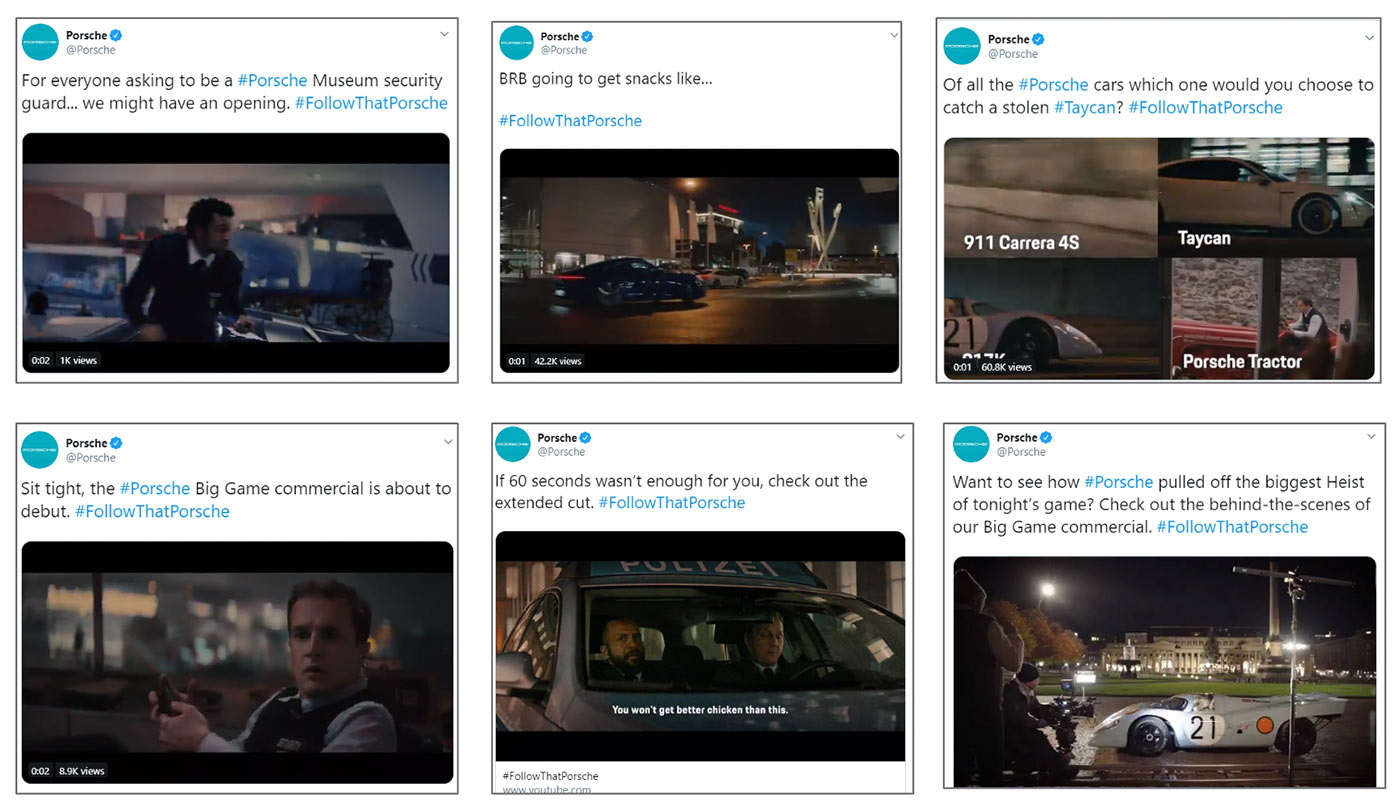 For Porsche, our playbook also clearly identified how the brand wanted to engage in real-time and the types of moments that would make the most sense. We focused our content and engagement to align with those moments and had a little fun as well.
In the end, our Super Bowl commercial became the most successful YouTube video for the Porsche channel and was named one of the best ads of the game by TIME, Adweek, Ad Age and others. We'll call that a two-point conversion.
How will it be different this year?
Other than constantly wondering if there will be a Super Bowl this year (we think so), we likely won't be in the same room together when it happens. That adds a few other scenarios to plan for, like video conferencing platform outages and even more potential tech-related failures (regional power and/or internet crashes, etc.). Some extra IT staff is a good idea this year.
Have a backup plan for the backup plan.
Your playbook will crucial. Checking bandwidths, ensuring your setup works and everyone understands their roles will also be even more crucial. Because, of course, preparation is always crucial. And that's really the same every year. We'll still come ready with creative and ideas for posts, we will still use social listening and community management systems and we will be able to work as one team even if we are not all in one room.
One more thing to think about: social media itself might be more crucial as we all social distance and viewers can't gather with friends to watch together in the same ways they did before. Social may fill a real socializing gap this year.