C-K Research: The great car comeback of 2020.
By Lisa Rios, SVP, Director of Brand Planning; Edward Otto, Junior Brand Planner
Never a group to shy from adventure, the C-K brand planning team spent a sizable part of our summer undertaking a hardcore, nationally-representative consumer research study about Americans and their renewed love of the road trip.
Against the backdrop of the pandemic, we saw a number of activities and objects take on deeper, almost symbolic meaning for people struggling to create a sense of normalcy and maintain human connections.
Case in point: Through drive-by birthday parties and graduations, teacher parades, convoys of protest for equality, impromptu getaways and reimagined family vacations, we identified a common symbol of resilience in the age of COVID-19 – the passenger car.
Perhaps not a surprise, 2020 was the Summer of the Road Trip, creating a surge of used car sales in the US. Amid ongoing concerns around plane and train travel it looks like America's love affair with cars is blazing strong.
Most Americans Took at Least One Summer Road Trip
What's the best way to get away? In summer 2020, it was an old-fashioned trip in in the family car. Our research revealed that a vast majority of summer travelers—more than 71%—had taken, and/or were planning to take, a road trip via car/truck/van. What's more, 31.2% of adults 18-64 had taken a trip and/or were planning a trip via RV/camper.
Which of the following types of trips have you taken in the past 2 months, or do you plan to take in the next 2 months?

The Family Car is Where It's At
An overwhelming majority of road trippers in our study reported that they drove or planned to drive a vehicle that they owned (79%) or leased (7.9%).
Getting Our Machines Road-Ready
In preparation for a summer road trip, travelers in our survey were most likely to do some routine maintenance such as changing their oil (35.5%), checking/inflating their tires (25.7%) and topping off fluids (21.8%).
Notably, 15.7% of respondents reported that they rotated their tires prior to traveling. Additionally, 15.1% planned to install new tires in advance of their trip.
Which of the following did you do / replace or plan on doing / replacing before your trip?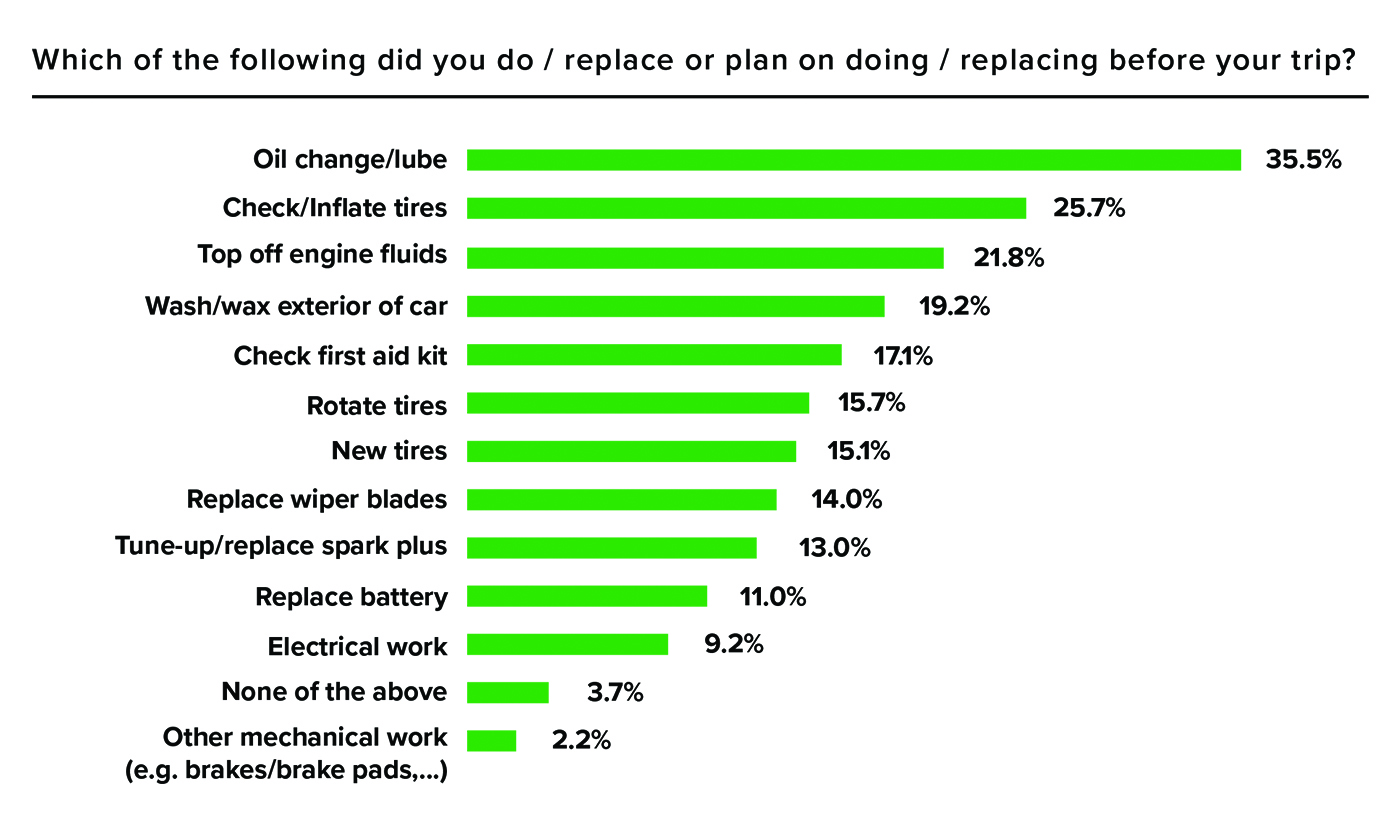 What Does This Mean for the Auto Aftermarket?
This is a challenging environment for marketers. Even before the downturn, auto manufacturers and aftermarket brands were feeling the effects of increased competition. While auto sales in the US have yet to fully rebound, the market is already showing signs of renewal. And whether it's viewed as an extension of the driver, as in a drive-by birthday party, an escape pod out of a crowded city or a very specialized form of PPE, there's no question that the car has a new relevance today than it did just 6 months ago, when new auto sales were much stronger.
What marketing recommendations do we have for auto aftermarket brands in the age of COVID-19?
Seize the moment to educate drivers about maintaining safety and longevity. Partial shutdowns in the economy have created an interesting dichotomy of extended car idleness and extended drives. What drivers don't know about the special maintenance needs of garaged cars has high potential to cost them in the long term. This is an opportunity for all kinds of auto brands, from parts manufacturers to retailers to service centers, to help consumers avoid passive erosion of their fuel systems, tires and other mechanical systems when their driving is significantly reduced.
Put technology and social media to work for you. Today's drivers may be less engaged in the mechanical aspects of cars, but that shouldn't put them out of reach to marketers. Instead, we see opportunities to make more personal connections with car owners by showing up in lifestyle-focused platforms that their cars help enable. Think about the wide range of planning tools people will use for their fall and holiday travel, (articles and blog posts, lodging sites like Airbnb and VRBO, ecommerce travel gear companies, etc.) and find a little real estate for engaging your key audiences and affinity groups. Considering that many of our cars are telling us when they need oil changes or that a tire is low, your ideal audience for aftermarket products and service no longer needs to be a "car person."
Work to build brand trust with everything you say and do. Through the pandemic, we've observed scores of revivals among classic and somewhat forgotten brands. Think Clorox; Kraft Mac & Cheese; Little Tikes. As consumers found themselves on uncertain ground, the value proposition became less about dollars-and-cents value and more about delivering on human needs such as a feeling of stability, added utility and even just moments of levity. In times like these, being a brand consumers can count on can be much more valuable than innovation or short-term cultural relevance.
Interested in more C-K research? Check out our look at Fortifying the Castle: COVID-19 changes up home improvement project plans for 2020.