What's behind outdoor renovation trends?
By Edward Otto, Brand Planner
To learn more about the wide range of insights uncovered in C-K's recent research study on home improvement, "Home Improvement Trends – Summer 2021," reach out to Betsy Brown.
In 2020, as COVID-19 forced the cancellation of plans and summer vacations, homeowners started to view their homes in a new light. Investing more time and money into home improvement became common as homes became castles where homeowners felt protected.
As the pandemic continued into 2021, so did homeowners' investments in their spaces, helping to create a "building bubble" with industries such as pool installation seeing a 200% increase in orders and lumber prices soaring 275%. Interestingly, it seems that this lumber bubble has popped, which could come as a dose of good news for those who were forced to pause home improvement plans due to inflated costs.
Now, as elements of normal life begin to return, we fielded our recent study to learn about homeowners' current outlook on home improvement. Also, considering seasonality, how are homeowners thinking about investing in their outdoor spaces? What projects are they tackling and what is motivating them?
Homeowners Are Motivated to Do and Spend More on Their Homes
As homeowners emerge from COVID-19 restrictions and return to an increasingly normal life, how much are they prioritizing home improvement?
Our study suggests that homeowners continue to see a renewed sense of purpose for their homes. More than two-fifths of homeowners' report that they have an increased feeling of importance around home improvement. Only 11% of homeowners feel that, after the last year, home improvement is less of a priority.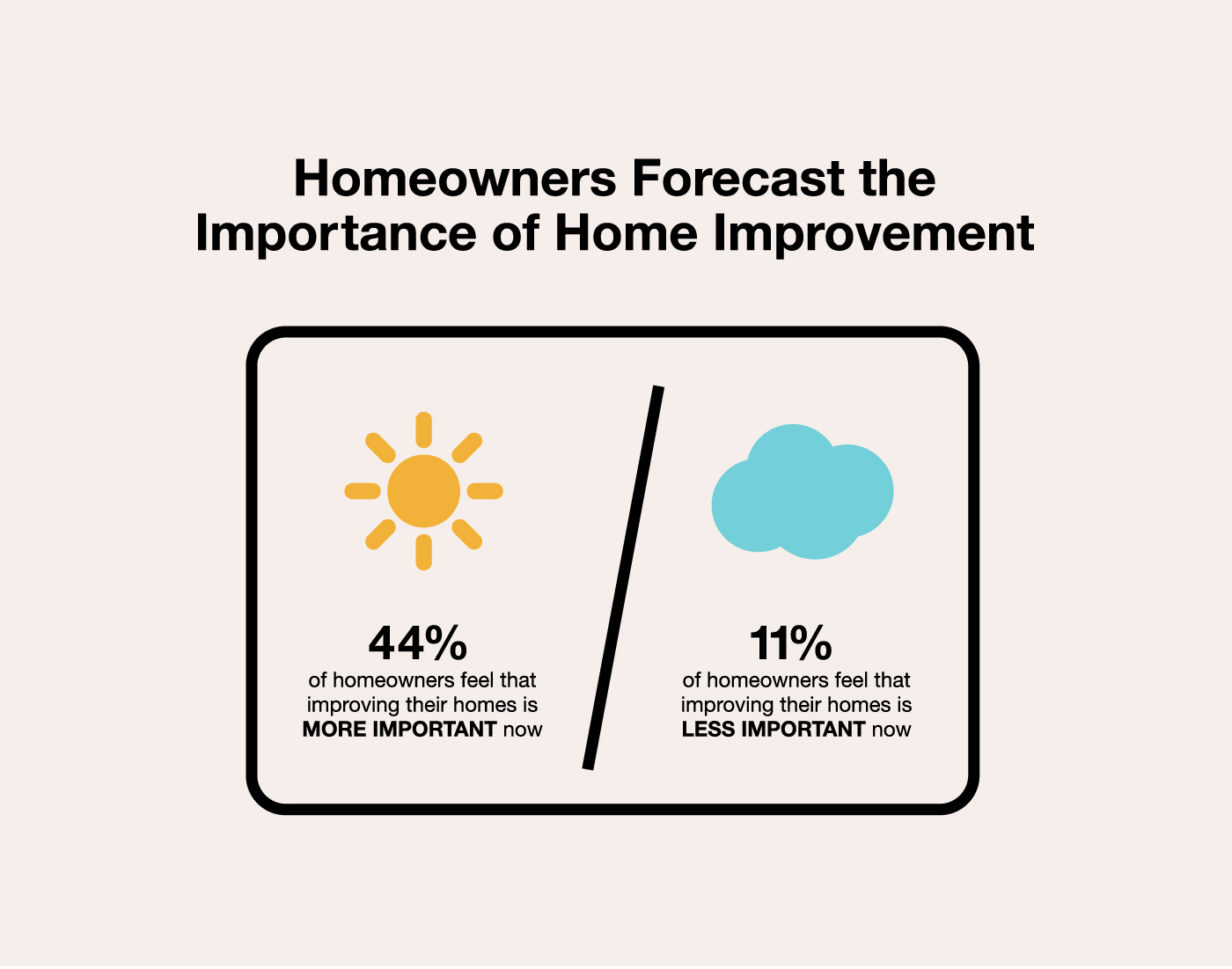 Accordingly, two-fifths of homeowners anticipate more improvement projects in and around their homes. When it comes to spend, just over one third of homeowners are planning to invest more money into home improvement and renovation projects over other major purchases and investments this year.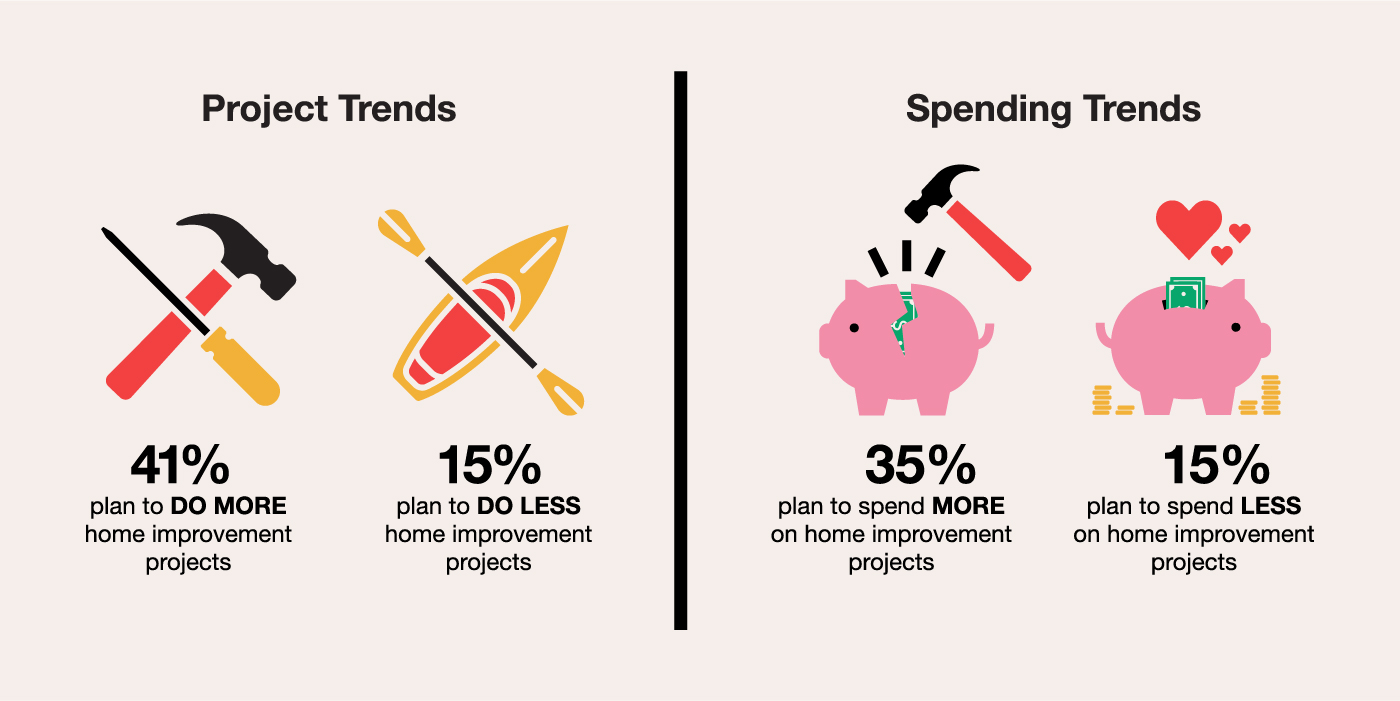 Home Renovations Most Motivated by the Here and Now
Homeowners who are planning to engage in home renovation projects are most likely to value here-and-now motivations, such as saving on utilities and maintenance. Less important to homeowners are future considerations, such as equipping their home for changing family needs (e.g., more children, getting older, etc.) and the future resale value of their home. While near-term considerations, such as making sure homes are suited to needs, were also very important, homeowners were significantly less likely to cite entertaining as a very important motivation for home renovation and improvement projects.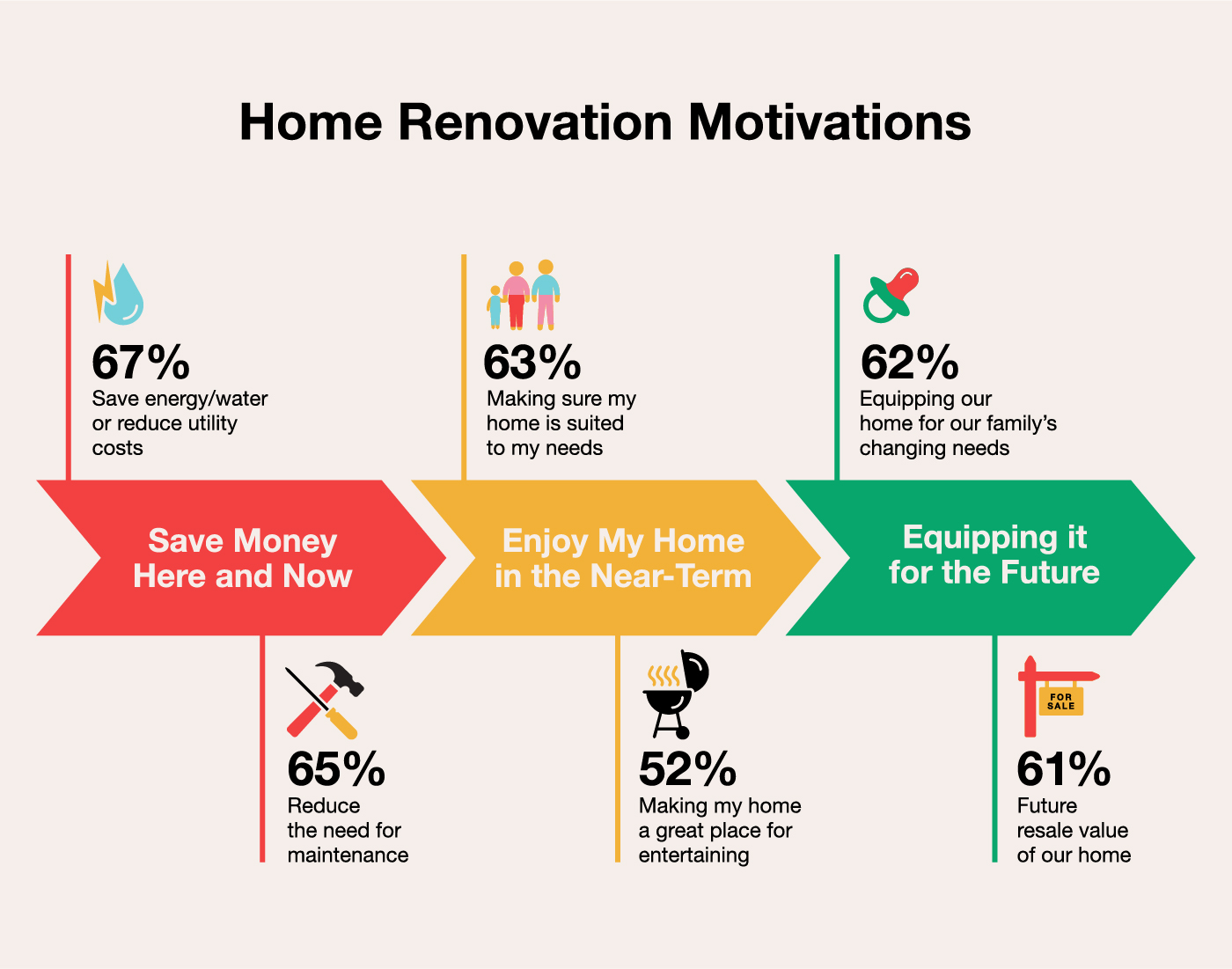 Homeowners Are Increasingly Interested in 'Hardscape' Improvements to Their Outdoor Spaces
In the past six months, homeowners were busy improving their outdoor spaces with mostly surface-level improvement projects. At least one-fifth of homeowners completed 'softscape' projects, such as planting flowers, fruit/vegetable gardens or flower beds. Homeowners were also eager to transform existing outdoor space into functional living space. Roughly 16% of homeowners installed a new deck or patio over the past six months.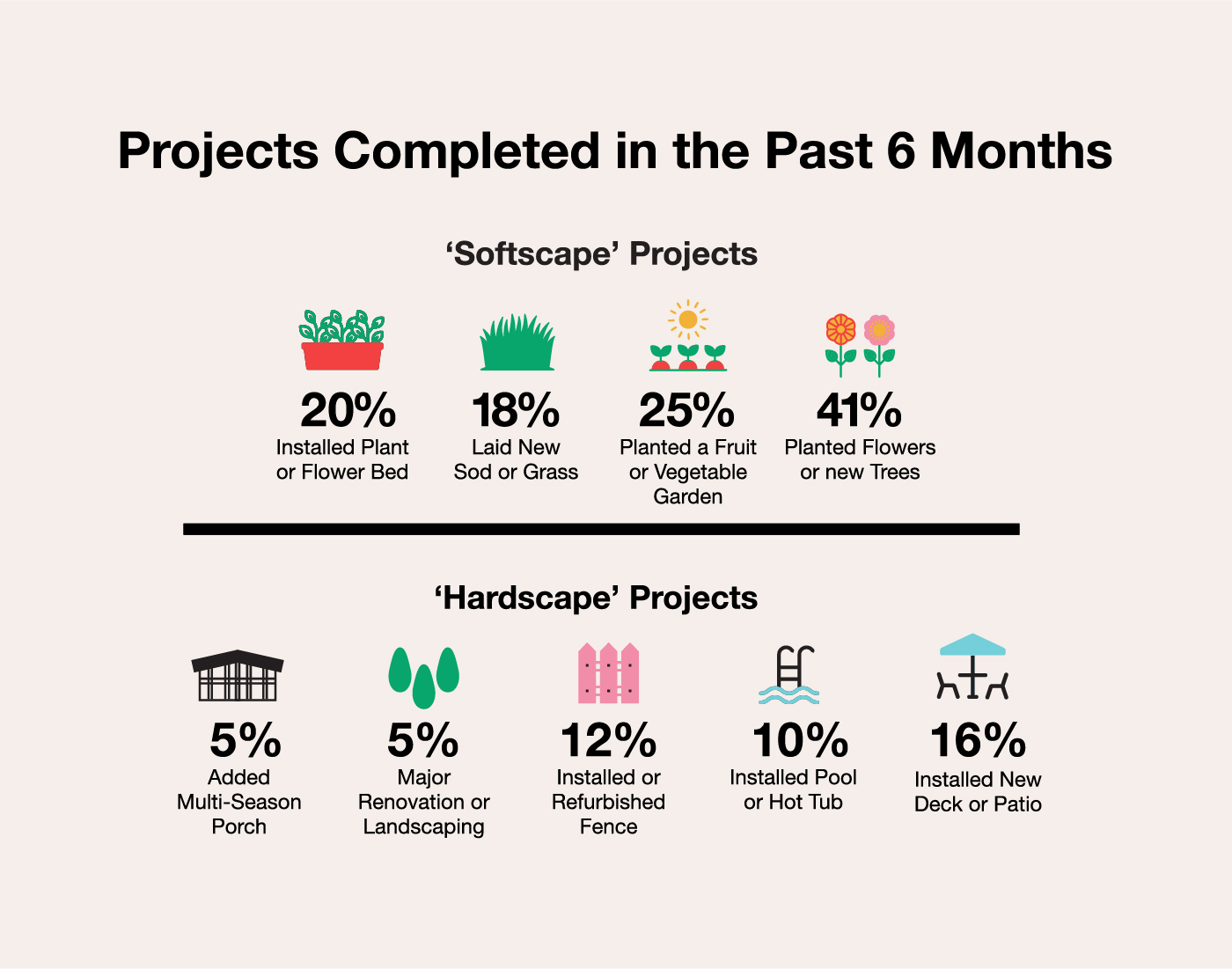 As homeowners look ahead to the outdoor projects they have planned for the next six months, our study shows a downturn in 'softscape' projects, such as gardening and planting flowers, which most likely coincides with the end of summer and thus the end of the planting seasonality. What is interesting, however, is that homeowners are increasingly eager to tackle more permanent outdoor improvements, or 'hardscape' projects, in the coming months.
Our study shows two projects can expect to see growth in the next six months: the installation of a multi-season porch (+102%) and major renovation or landscaping projects (+61%). As summer comes to a close, it appears that homeowners' eagerness to enjoy their outdoor spaces is certainly not waning and, in fact, they may be increasingly motivated to continue taking advantage of their outdoor space and transform it into functional, livable areas.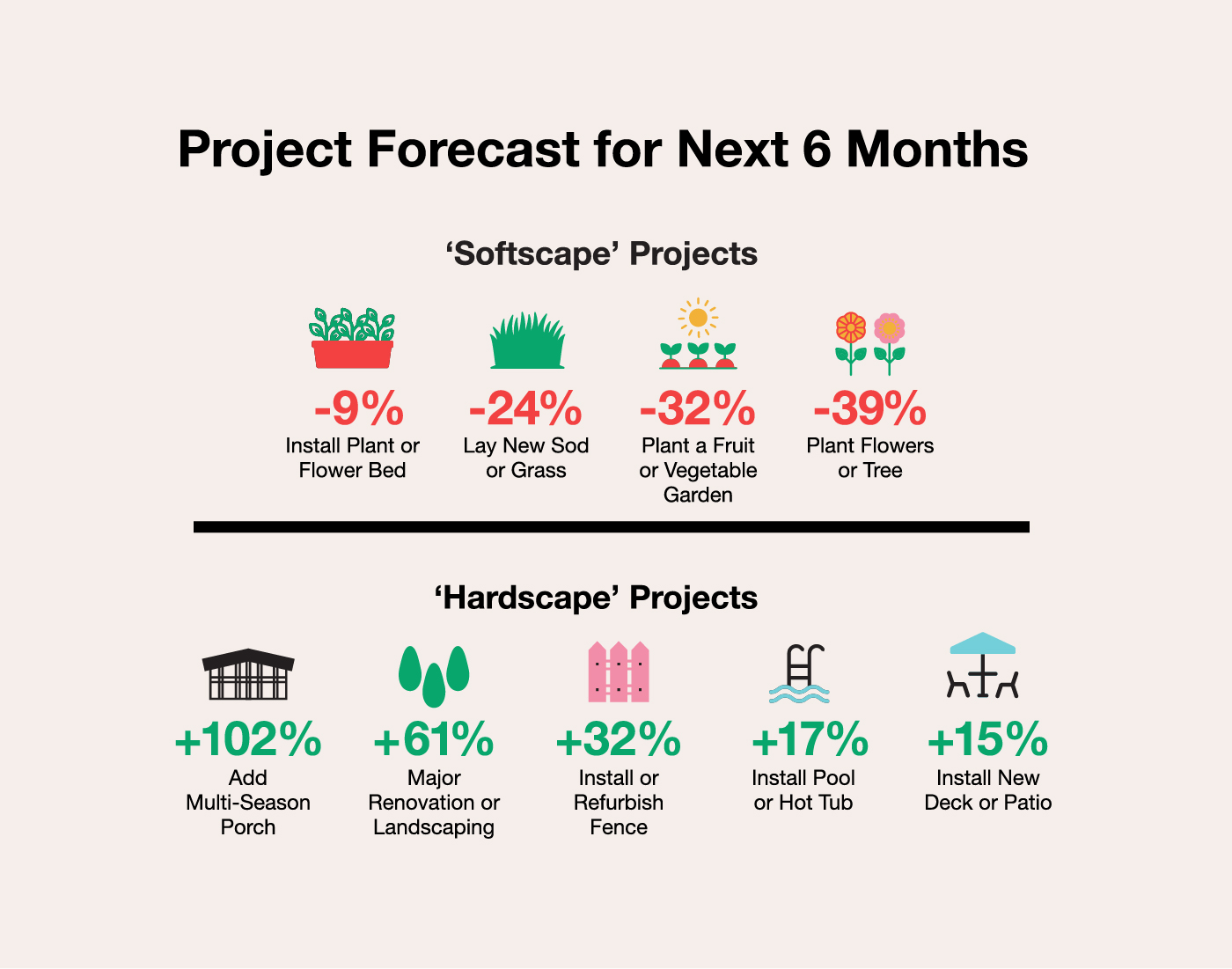 Hardscape Projects May Be Evidence Your Neighbor Is Staying Put
As we revisit homeowners and their motivations for home improvement plans, what motivations are behind this growing interest in hardscape projects?
It could be assumed that homeowners' increasing interest in hardscape projects might be a product of the red-hot seller's market taking place across the country, with sellers looking to improve their properties and, as a result, their asking price. However, homeowners with hardscape plans in the next six months are significantly more likely to be motivated by their immediate needs and significantly less likely to be motivated by resale value. This could suggest that homeowners who are motivated to plan these hardscape projects see them as an investment into improving their current lifestyles rather than simply a financial investment.
Interestingly, the two exceptions to this rule are decks and patios. Homeowners who are planning to add a new deck or patio to their outdoor space are significantly more likely to cite future resale value of their home as their most important motivation for home renovation. What this possibly suggests is that usable, outdoor living space is becoming more desirable to homebuyers. Installing a patio or deck is an easy way to expand a home's living space – and it gives future homebuyers an easy foundation to add a personal touch to their outdoor space.