Voice search in action on O-Dowel.com.
By Nick Papagiannis VP Search Director
When C-K built a new website for O-Dowel, a carbon steel tubular dowel bar used in highway construction, Search Engine Optimization was integrated from the start and throughout technical requirements, design, content, and HTML tagging. As a result, the site ranks for its target search of "tubular dowel bars" on traditional search results, Google Quick Answers and voice search results. This "trifecta" of search engine results should be the goal for most content given the rising use and importance of voice and Quick Answers.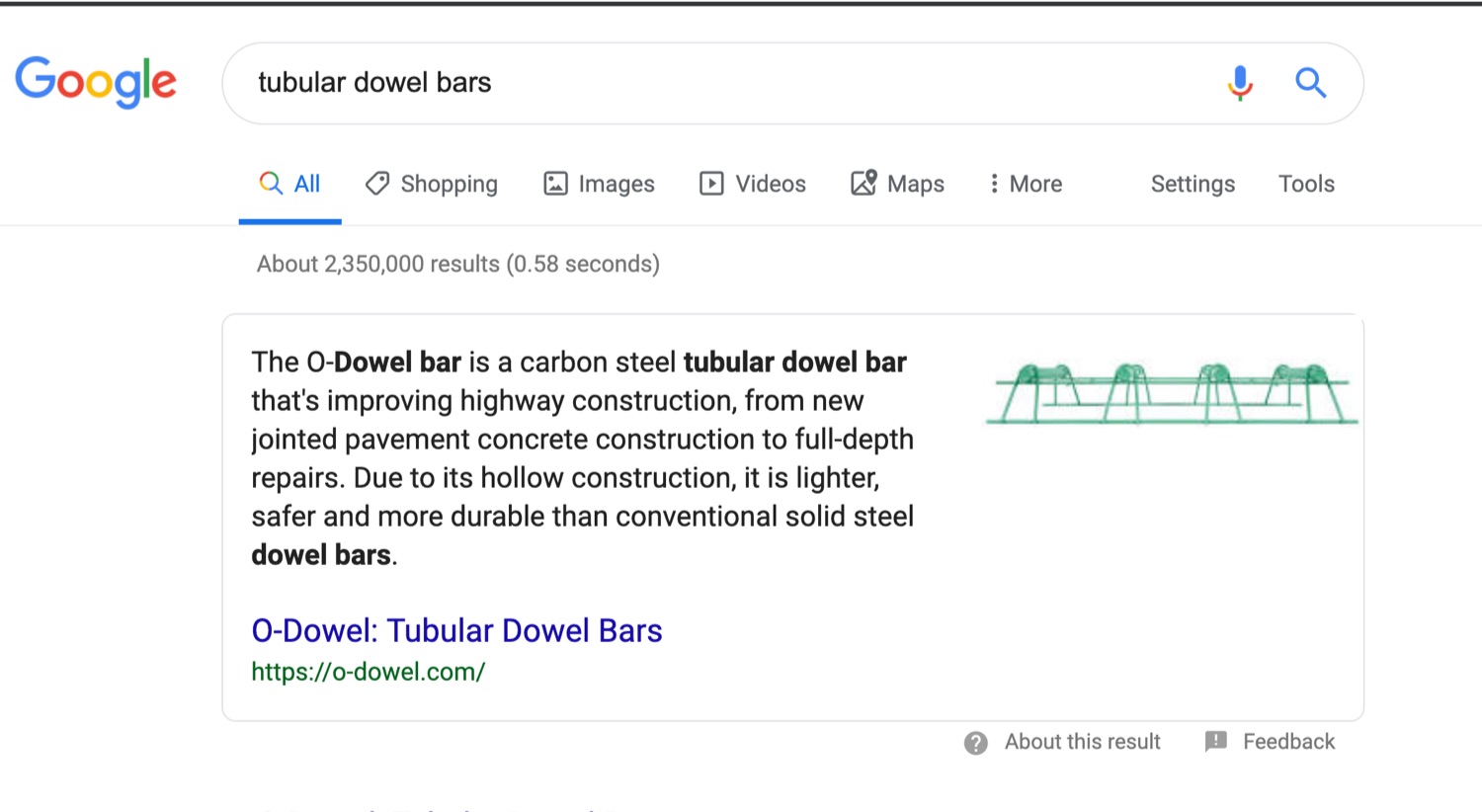 How to create website content that ranks well on search results.
Here are the reasons why this simple page was able to rank for Quick Answer and Voice Search (Google Assistant) results.
Target Term competitiveness:
Tubular Dowel Bars is not a very competitive search phrase to rank for, making it easier to rank in search engine results. Because Google determined that people searching for the term are in more of in research mode and the site is an authority for the topic, it provided Quick Answer results from O-Dowel.com. (See image above.)
O-Dowel.com is structured well for SEO and voice search:
There's a dedicated webpage on the O-Dowel.com website that's focused on the term "Tubular Dowel Bars."
The webpage loads fast on mobile, a key factor in ranking well in voice and mobile search results.
The site is tagged well from an HTML perspective and includes the term in those tags.

Key areas like the H1, URLs, title tags and meta description tag include and are focused on the phrase "tubular dowel bar."
Schema.org tags are used throughout the site, where appropriate.

Website includes "Tubular Dowel Bar" in page header.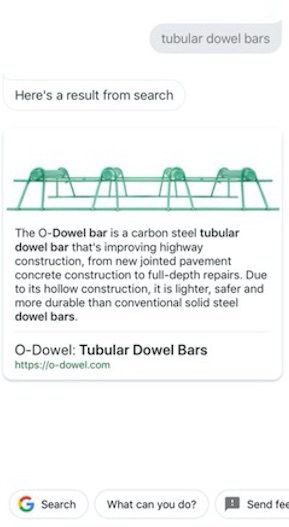 Content speaks to the target phrase:
The content mentions the "Tubular Dowel Bar" phrase throughout the page. Check out the screenshot below, all the highlights are the areas that include the phrase.
It is expected that 50% of all searches will be voice searches by 2020 (source: comScore), so now is the time to include SEO voice search thinking (like we did with O-Dowel.com) into the development of content on your website and elsewhere.