Pet love: How men and women show it differently.
By Lisa Rios, SVP, Director of Brand Planning, and Edward Otto, Brand Planner
Just as quickly as January began, it will soon end and welcome the arrival of February. And with that, love will be in the air as we get to experience the loveliest holiday of all, Valentine's Day. If you can't tell, we at C-K are already eager to get onto the cheesy cards and candy hearts.
However, this year, as we plan (or forget to, for that matter) for Valentine's Day we began discussing all the ways people show love beyond their significant others. And that got us thinking. What about their pets?  
We all show love for our pets differently. Some dogs are spoiled with prime table scraps, while others are nurtured with a strict regimen of greens, lean meat and fresh berries. Some cats take to the outdoors to capture mice and other vermin, while others spend their time hunting the living room curtains. There are a million different ways to treat the furriest of family members. Which brought up an interesting point in our mind given the approaching holiday – how do male and female pet owners differ when it comes to loving their pets?  
Our research uncovered some noteworthy differences between how men and women think and treat their pet. Men are much more likely to go over-the-top when it comes to spending on treats and gifts, while women are significantly more likely to say their pet is just a part of the family as a human. 
For additional information on our recent research study on pet ownership, American Pet Owners – September 2020, reach out to Betsy Brown. And continue reading below to learn more about the differences between male and female pet owners.  
Women Take Pets In; Men Pick Them Out
When asked where they had gotten their most recent pet, male pet owners were significantly more likely than female pet owners to have purchased it from a pet store. Nearly a third of male pet owners report that their pet was purchased at a pet store. While men are browsing pet stores for their next furry friend, women are nearly 2X as likely to visit humane societies. Women were also more likely than male pet owners to say they took in a stray animal.

Women Are More
Likely to Include Pets in the Family Portrait
As males and females bring pets into their homes, where do those pets net out when it comes to being a part of the family? Do pets transcend their biological differences to be just as important as human beings in the family or are they just an animal at the end of the day? Interestingly, female pet owners are significantly more likely than their male counterparts to consider their pets as part of the family.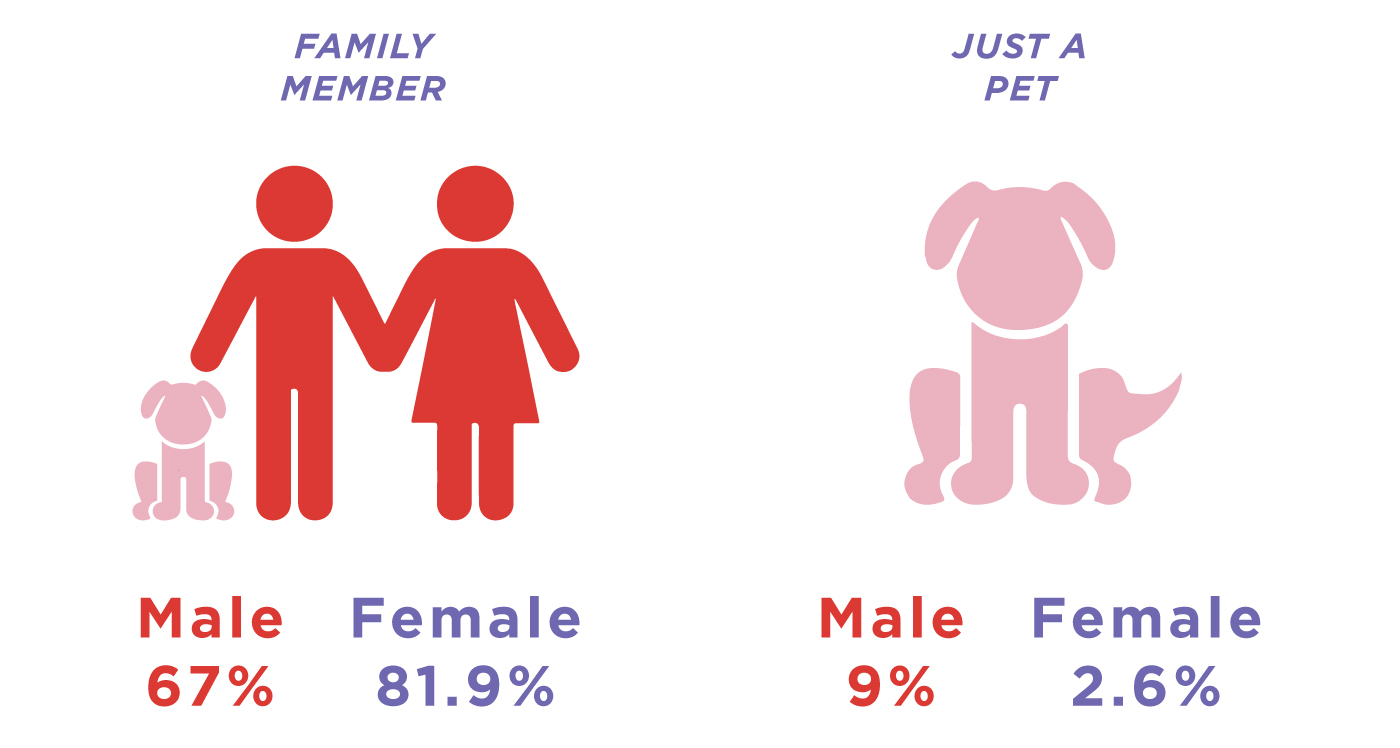 While very few women consider Fido "just a pet", our research shows us that one in ten men agree that pets are nothing more than animals. But what about treating them like family members? Our research also asked pet owners about whether they were interested in pet insurance; a relatively new, but growing, phenomenon. Despite larger numbers of men seeing pets as just animals, our research showed that male pet owners were 2X as likely to be currently carrying an insurance policy for their pet compared to female pet owners.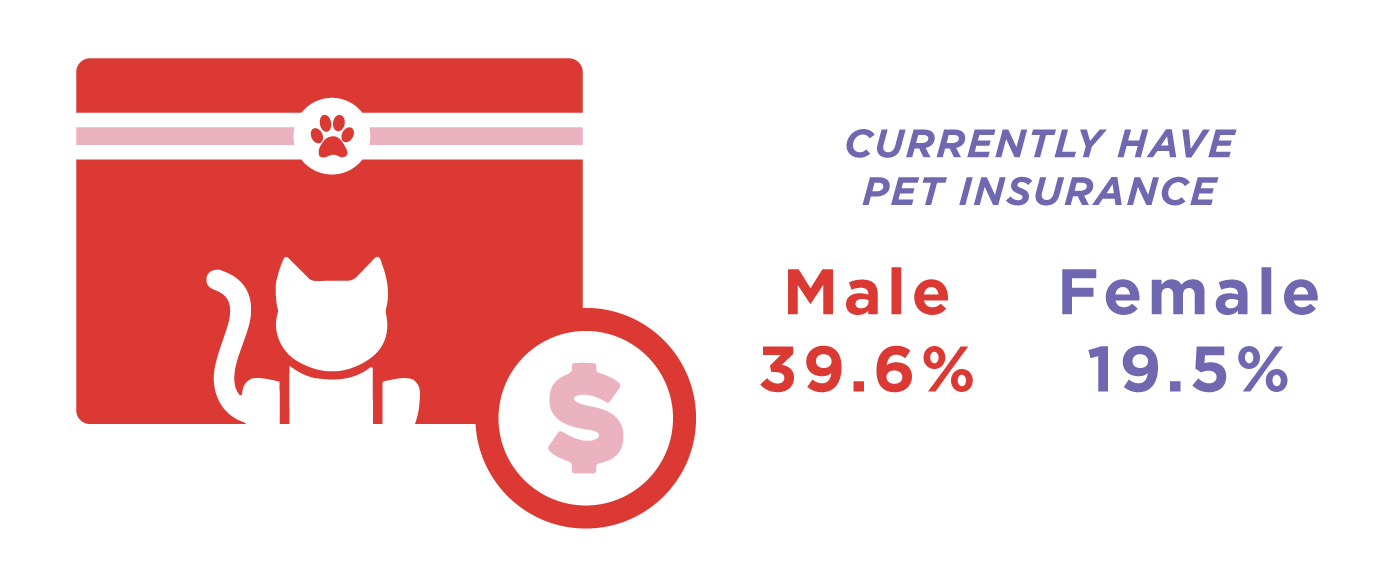 For Some Owners, Pets Literally are "Top Dog"
While the majority of pet owners can agree that pets are just as part of the family as kids and relatives, some pet parents take their love a step further. Curious about how attached they were to their pets, we wondered if pet owners would admit to loving their animals more than human family members. Shockingly, nearly a third of male and female pet owners admitted that their pet was the most important member of their family. Talk about a leader of the pack!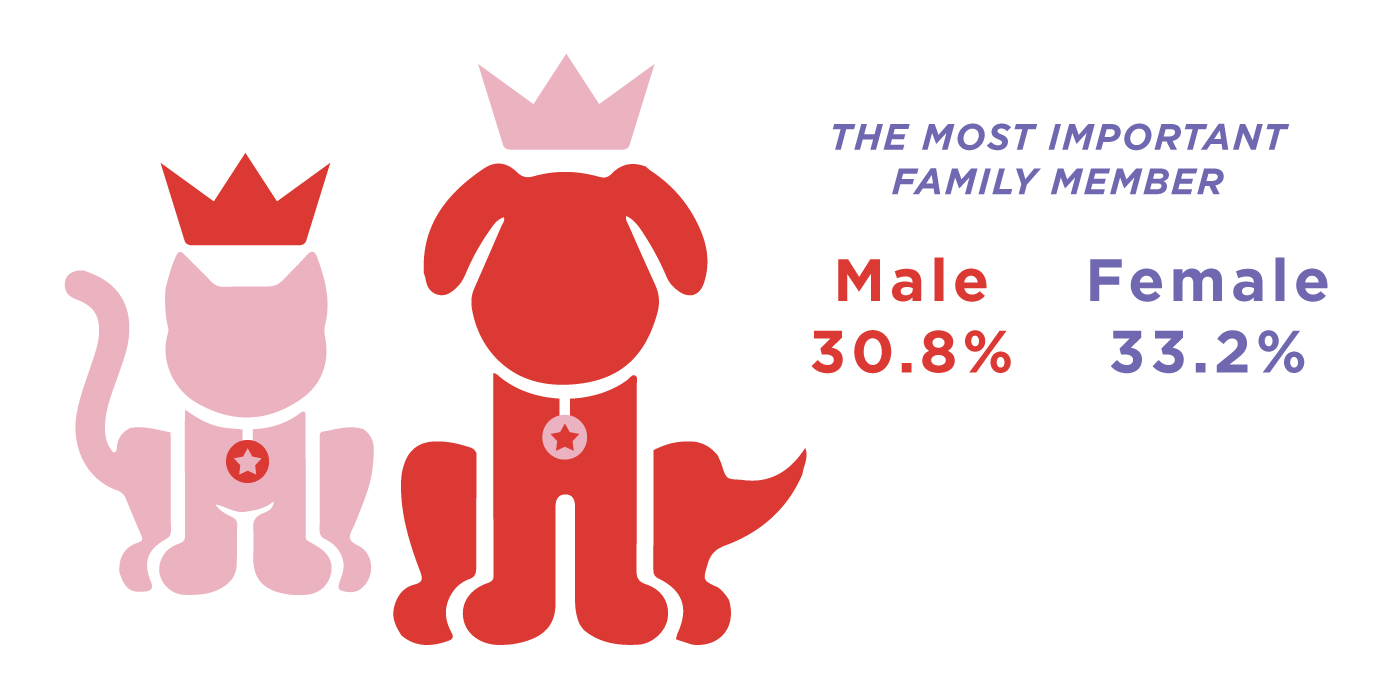 Pets or Owners: Who Benefits the Most in the Relationship?
When asked who benefits the most from the relationship, women are significantly more likely to say that their life is better because of their pets (63.2% vs. 45.5%, respectively). Men, on the other hand, are significantly more likely to say that their pets benefit more from their relationship. In fact, over 17% of male pet owners say that their pet's life is better off because of them.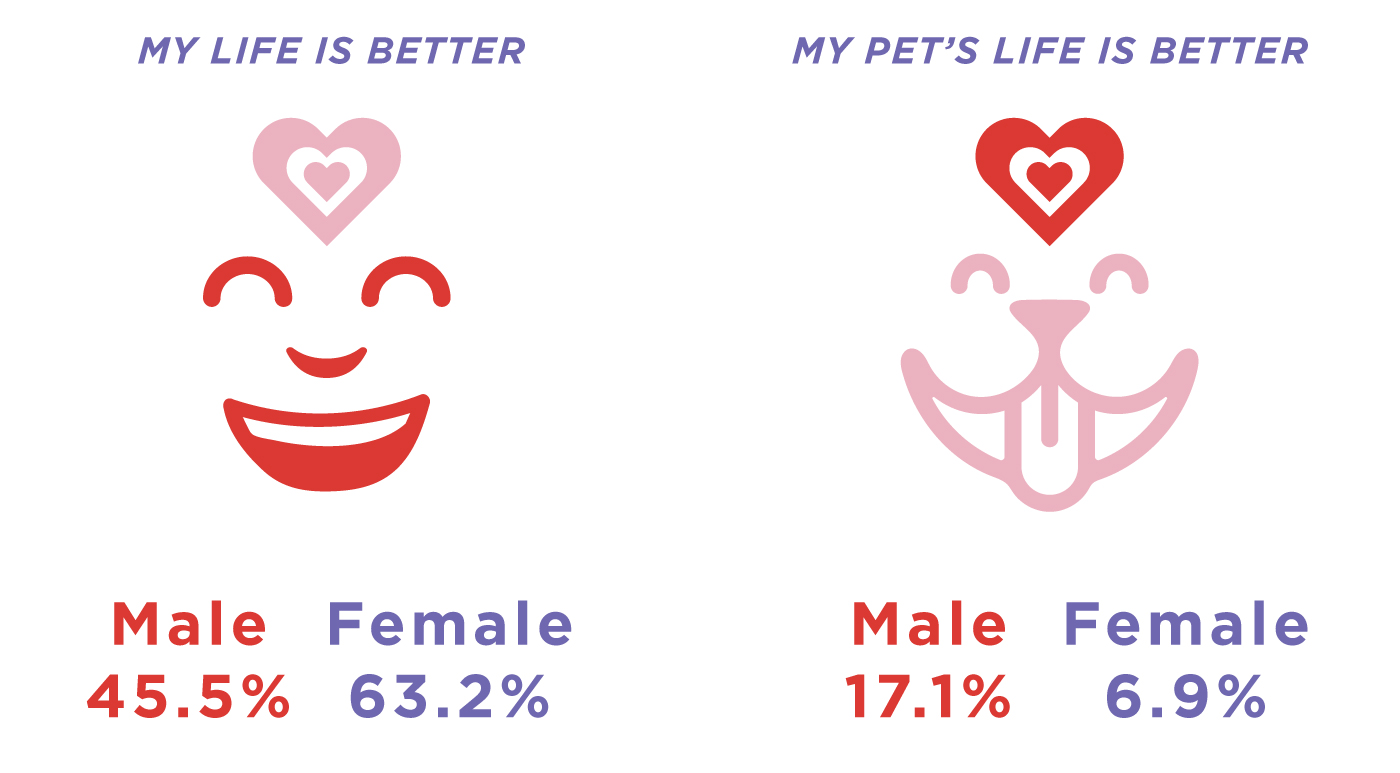 Women Say They Spoil, But Men's Receipts Beg to Differ
Whether for good behavior, training or just because, pet owners love to spoil their furry family members. Interestingly, our research shows that women especially love to indulge their pets. In fact, our research shows that female pet owners are significantly more likely than their male counterparts to report spoiling their pet(s).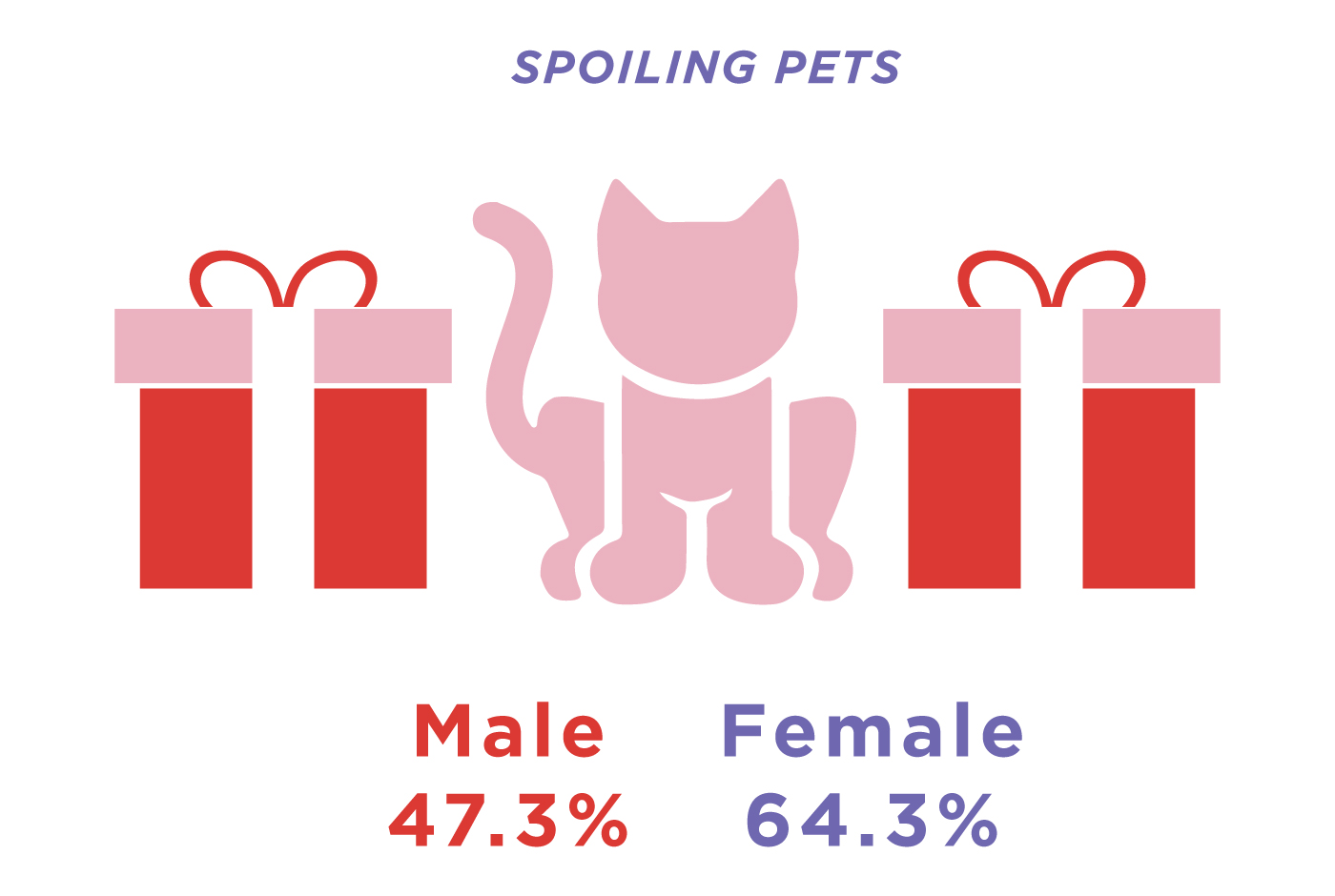 However, when it comes time to put money where their mouth is, they fall significantly short. On an average month, male pet owners tend to outspend female pet owners by 33.3% on spoiling their pets – $69.69 / month versus $52.27 / month.  
Male and Female Pet Owners Shop Differently for Pets
When it comes to shopping for pet supplies, men and women tend to frequent the same retailers to pick up food, litter and other pet supplies. As expected, big box department stores, big box pet stores and grocery stores are the most popular types of stores for both men and women shopping for their pet(s) in-person. However, brands looking to court male pet owners may want to look at retailer partnerships with warehouse stores (e.g., Sam's Club, Costco, etc.). Our research shows that 8% of men say that warehouse stores are their preferred retailer for shopping pet food and pet supplies.  

Female Pet Owners Visit Stores for Deals and Convenience, Men Shop for Pet Culture
Why they choose where they shop reveals stark differences between what motivates male and female pet owners. Female pet owners are significantly more motivated than men by low prices/deals (63.7%). Additionally, female pet owners are motivated by the convenience of being able to buy both pet supplies and non-pet supplies in the same trip (61.6%).  
With less concern around price savings, what attracts men to certain retailers for pet shopping? Our research suggests that male pet owners see a trip to the pet store as more of an event and less of an errand. They are over 3X more motivated than women by access to employee recommendations, 2.5X by interactions with other animals and 2X more by letting their pet choose what they want.  
Implications for Marketers
Re-assess Retail:

Pet food and supply companies looking to make inroads with a male audience shouldn't overlook warehouse stores such as Costco or Sam's Club. With about one in ten male pet owners relying on these stores as their primary retailer for all things pet, there is potentially a lucrative opportunity awaiting. 

 

Steer Men to the Indulgence Products:

Pet brands making treats and toys should consider gender differences as they navigate the marketing of their products. While female pet owners may be more eager to spoil their furry friend, don't turn a blind eye toward men who ultimately will be a more profitable target.

 

Harness Your Shopping Benefits

: As retailers are looking to attract a new wave of pet owners, remember to appeal to their diverging motivations. While big box stores and grocery may win with women who are looking for deals and shopping convenience, big box pet stores offer a massive opportunity to attract men looking for a more interactive shopping experience.