ConneCKtions Research: Are tiny houses a big thing?
By Lisa Rios, Senior Vice President, Director of Brand Planning
Tiny houses. By now, you've almost certainly heard about them, quite possibly debated their merit and maybe even considered one for yourself. Invented as an alternative to FEMA trailers in the wake of the Hurricane Katrina disaster, popularized by Jay Schafer of the Tumbleweed Tiny House Company and later made completely mainstream by HGTV's Tiny House Hunters, under 500-square-foot homes seem to have the makings of a big social movement.
According to the architecture and design community, Millennials love a tiny house. We were curious: What do Millennials themselves have to say about it?
Who wants to live smaller?
As we might expect, adults age 21-34 are more likely than the general population to express interest in owning a tiny house and adopting a generally simpler lifestyle.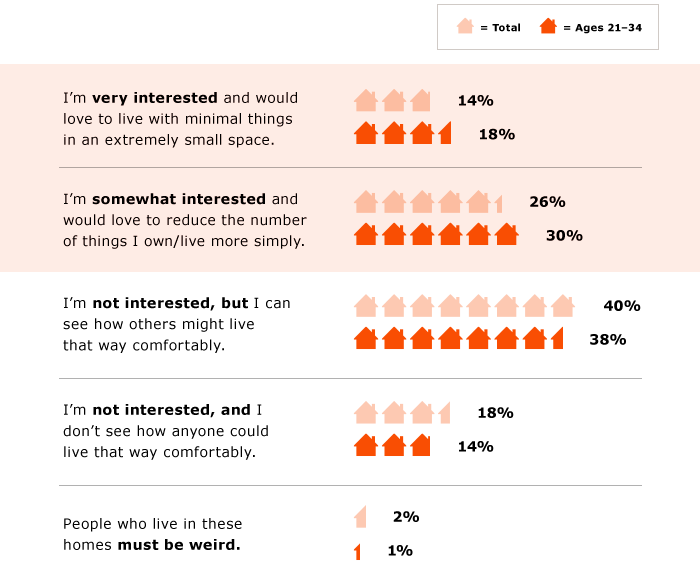 What size is the ideal home?
But in reality, young adults are much more likely to aspire to owning larger homes than the rest of the population. (They also have a taller list of demands: 32% would require a designated playroom for kids; 22% need a swimming pool; and 13% have to have a guest suite with its own kitchen.)

What does this mean for marketers?
Conceptually speaking, small is good.
There's badge value in "small"—especially among Millennials. For a generation that came of age during the great recession, conspicuous consumption of products and services designed to be simpler, smarter and more economical is a way to flaunt their resilience. Tiny houses aside, there's an opportunity for brands to build relevance by marketing to Americans' "inner minimalist."
But the other good stuff is still good stuff.
Given the means to acquire more, most people will. For example, the data in this study suggest that a majority of (supposedly city-loving) Millennials aspire to buy homes in the suburbs or in rural areas. In fact, young adults want all the nice stuff their parents wanted – the latest electronics, a nice car, a great home, nice vacations and adorable kids they can dote on. And that picture simply doesn't reconcile with a 400-square-foot home in the woods somewhere. (Builders and home furnishing companies: No need to fret!)
When it comes to homes, living large is generationally relative.
Here's something you might not have considered: In 1975, the average size of a new home was 1,535 square feet; by 2015, the average size of a new home had grown to 2,467-square-feet (US Census Bureau). So when younger adults talk about plans to buy a home over 2,000 square-feet home, it might in fact represent a downsize from the home where they grew up. Forget about the numbers. Connect with them based on the shared philosophy of living more simply.
Source: A custom survey of 1,008 heads of household age 21-74, fielded the week of June 6, 2016.