Millennials take the wheel.
By Lisa Rios
That didn't take very long.
When C-K published our white paper on Millennials and Driving in October 2014, the headlines were ominous for the auto industry. Millennials Don't Care About Owning Cars, And Car Makers Can't Figure Out Why, they said. Not only were we staring down the decline of one of our greatest industries, but marketers and researchers had little understanding of what was really behind it.
This year, the headlines tell a completely different story. NBC/The Detroit Bureau tell us to Forget the Stereotypes; Millennials Are Buying Cars After All.
As our research told us, it wasn't a lack of interest that was driving the decline. More often to blame were financial barriers and the increased complexity of drivers licensing in the GDL (graduated driver's licensing) age. And we knew it would turn around.
On a larger scale, our study reminds us that young adults want the same things out of life that their Boomer parents do. Cars are just the beginning. As their financial situation improves, we can look forward to Millennials spending big on things like homes in the suburbs, travel and vacation homes, boats and recreation vehicles.
We knew the Millennial drivers were coming.
Millennials aged 18-26 in particular were making plans to buy in 2014 (and the data show they've made good on that promise).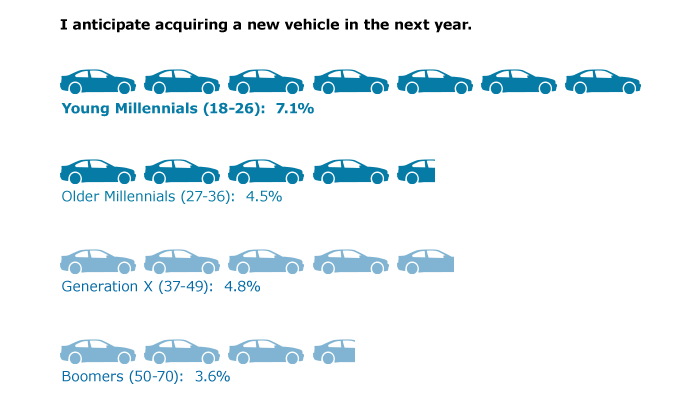 They just needed some scratch.
At the top of Millennials' reasons for non-ownership were the financial burdens of buying, operating and maintaining a vehicle.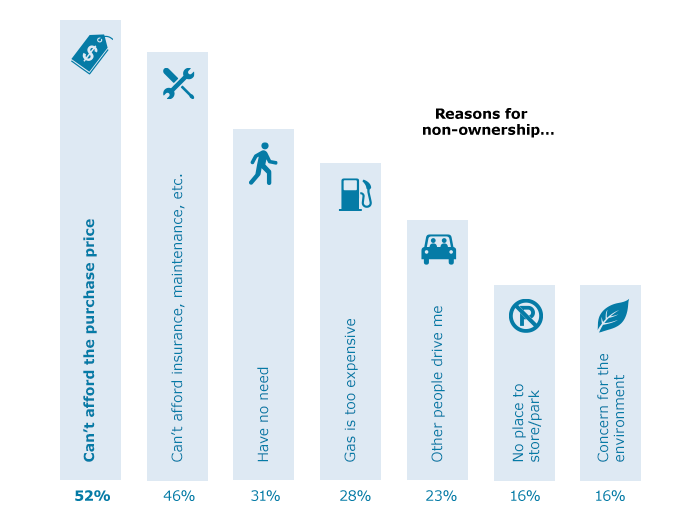 Spoiler Alert: More Consumerism Ahead.
As it turns out, Millennials' ideal "good life" has some really nice stuff in it.  Given the means, they'll welcome high-end homes and luxury goods into their lives.

What does this mean for marketers?
We haven't witnessed a revolutionary shift in values in a single generation. However, when it comes to judging "good enough," each generation seems to be setting the bar a little higher.
No doubt the Great Recession helped keep young adults on the car-buying sideline, but so did their standards. For Millennials, the bar for buying cars wasn't met en masse until they could afford vehicles that didn't feel like a compromise:
They have to deliver on both needs and Millennials' cars must satisfy their need for transportation and their desire for a higher level of creature comforts than what previous generations demanded.
They have to be technologically in tune with how they live. Beaters with tape decks and manual windows don't fly with Gen Y. They have to be running great, clean and smartphone-ready.
They have to be buy-able on their terms. Shopping experiences that start online and transition seamlessly into the real world deliver squarely on Gen Y's expectations. (No-haggle pricing doesn't hurt, either.)
We believe that these principles will hold true for the big-ticket purchases Millennials will make over the coming years.