Voice Search: How to optimize your brand's presence.
By Nick Papagiannis
Google reports that 55 percent of teens and 40 percent of adults use voice search regularly. eMarketer is also forecasting that voice search users will increase 27.6 percent to 45 million in 2018. It's time brands take voice search seriously. There isn't a voice search advertising opportunity today, but it's something all advertisers should keep an eye on. Currently, brands must solely take an organic approach to grow their presence in the space, but long-term there may soon be paid search opportunities.
Usage Siri. Cortana. Bixby. Google Voice Search. Alexa. Google Assistant. Those are the names of some of the most well-known digital voice assistants. The list continues to grow, but digital voice assistants are the main vehicles for using voice search. Assistants typically pull personal information from the user's device (phone numbers, history, etc.), along with general search engine databases, the same ones that provide standard search engine results, and display it using their core SEO algorithm (Google, Amazon, etc.). Search results are typically merged with a user's personalized information that has been accumulated via their device and general search data.
According to a 2017 eMarketer survey, people primarily utilize voice search to conduct general online searches, find product information, ask general questions and find local information.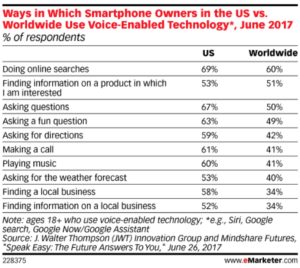 Game Plan for Brands
Voice search is now a meaningful part of the consumer experience. Brands should consider doing the following.
Determine which assistant is most critical to optimize around. Each voice assistant has its own strong points (e.g. some say Amazon Alexa Voice Search offers strong voice recognition and a great product search experience, but not necessarily a good experience when looking for general information). The list of voice assistants continues to expand, and the web offers some great takes on which one's best. From a marketer's perspective, it's important to think about:

Your targeted personas, their user journey, and how voice search apps plug into—and throughout—their sales journey.
The kind of information your target may be looking for via voice search.
How personal data comes into play on their phone.
Brands must figure out what their primary goal is (e.g., is it impressions, website clicks, or is it product sales?).
Figuring out the user journey, personalized data (geo-location, past searches, previous clicks to your site, etc.) and its affects, brand goals and each assistant's strong points will help you prioritize which assistants are most important.
Finally, leverage current website data. Most website analytics tools provide insight into what devices (though not the assistants) are currently driving traffic/conversions to your website (e.g., Google Analytics below). You can try to use this data as a gauge to determine which device/assistant to optimize around, and where there are gaps.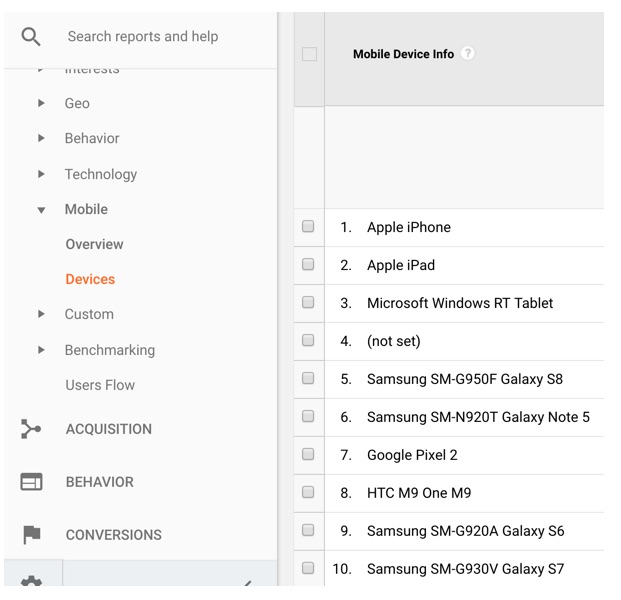 Above: Google Analytics
Test your current voice search presence around your most critical search terms, on the most important assistants. Per the eMarketer study, most people seek information when using voice search. Run some tests on your brand, product and category "information" searches to determine how/ if you rank and what ranks. There are a few notable keyword tools that can help identify the most commonly asked questions for each of these buckets, but the best in our opinion is SEM Rush "Keyword Magic" tool (which C-K uses). SEM Rush provides commonly asked questions around a given topic. Once your test keyword list is solidified, test your presence on the assistant(s). Depending on how much time you have, you may want to shorten your keyword list by search volume and test the most frequently searched questions.
Keep your paid search program on standby. Sponsored search ads have yet to make their way into voice search, but there are rumors that Alexa and Google Voice Search will be trying to monetize their voice search soon by using sponsored ads. If that happens, modify your paid search program to include longer tail keywords and keywords with questions. Also make sure there is good coverage on other match types besides exact. This will ensure you match other search queries even if they may not be the exact keywords bid on. Account maintenance tasks like leveraging search query reports on a regular basis (to make sure you aren't missing any keywords people are actively searching via voice search) will become even more important.
Improve the overall SEO of your website.

Focus on traditional website SEO. Continued focus on a traditional SEO is still a core area for a successful voice search program. Best practices that remain critical include: optimized HTML tags, URL structures, longer-form content, spider-readable text, using HTTPS, fast loading pages, and providing a sitemap and robots.txt files to ensure proper page indexing.
Optimize your mobile site experience. The SEO space has been warning brands for years about having a fast-loading mobile website. Use Google's free page speed tool to determine if your load-time score is adequate. Anything below a 75/100 is a red flag. If existing site pages can't be sped up, consider AMP pages. Amp is another version of your website content that requires its own bare bones page for the specific use of search engine indexing and search users. If your mobile site is not optimized or still loading slow, expect to see growing penalties and further drops in search rankings, including voice search in 2018.
Optimize snippets through Schema.org. Structured snippets are richer search results populated by advanced HTML (Schema tags) that offer additional ways to convey to Google what your content is about and how to display a search result.  This will help search engines and assistants determine which result information to include in voice search results.  Some studies claim richer snippets tend to indirectly result in higher search results than basic search snippets as well. Brands should work with their SEO and web development team to implement Schema.org tags for content on their site. SEO teams should conduct an audit of all the possible Schema options and determine which tags are suitable for the content presented on the site.

Take note of the types of assets that are being pulled in voice search results. When assessing your voice search presence, consider what outside listings are ranking for your critical search terms. Wikipedia, YouTube, Google My Business, and other assets and venues may rank high. Brands should consider creating similar assets or optimizing their assets on these offsite venues.    
Create content that's typical of a voice search. Maybe you're not ranking for questions about brand or your store location (hours, address, etc.). Consider questions or information that comes up in conversation or along the consumer journey. Maybe it's general topics about your category. If so, consider creating new content that's going to rank organically for voice search results. Work with your SEO lead and explore their keyword toolset to determine what those questions are and plug them into your content strategy.
As voice search continues to grow and offer a new way to convert customers, it's critical for brands to position themselves as best as possible. Be sure to work with your search terms to ensure these and any other evolving best practices are followed. In our opinion it's important to include search team members for voice search optimization in the following instances:
Loop in search team members when doing any kind of journey development, particularly for websites.  The search team will provide insights on popular brand and non-branded searches, which may skew towards users using assistants. This can help inform content that's created on new websites. Keep in mind that this will be a "best guess" because unfortunately at this time, Google and search engine data does not separate voice searches by device or traditional vs. voice searches.
Loop in SEO team members when building a new website to ensure the site is using all relevant HTML tags.  This will make sure that brand sites are communicating with search engines and marking content as best as possible to rank for voice searches.
SEO audit and website content creation. Consider doing a standalone voice-search audit in your 2018 plan. Assuming access to analytics is available, this audit will help look at what kind of traffic is coming from devices. We can provide a plan and query information to help guide website content creation for the year.