Safe at home, but happier outside: COVID-19's impact on outdoor recreation.
By Eddie Otto, Junior Brand Planner
Across the country, COVID-19 has required many Americans to stay at home and limit person-to-person interactions to flatten the curve. Now, in the midst of summer, people are increasingly outside and the number of positive cases is on the rise, with reports warning of a possible second and more sustained wave developing.
Despite this concerning possibility, people are growing restless. This is especially true for those who enjoy partaking in outdoor recreational activities. For them, stay-at-home orders, the closure of public outdoor spaces and sports facility closures have left them with limited opportunities to do what they love.
In April of this year, in the height of COVID-19 lockdowns, C-K launched a nationally representative survey that explored the pandemic's effect on a multitude of categories. One area we were particularly interested in was outdoor recreational activities. We surveyed people who participated in the following sports and recreational activities:
Fishing
Watersports (waterski, wakeboard, canoe, kayak, motorboat, sailing)
Powersports (snowmobile, ATV trail riding, motorcycle)
Biking / Cycling
Golf
RV Camping
Prioritizing outdoor recreation time in the midst of COVID-19
As COVID-19 robbed many enthusiasts of the outdoors, we asked how – in light of the pandemic – they would be prioritizing their activities for the remainder of the year.
Powersports enthusiasts were the most likely group to plan on prioritizing their sports this year with nearly half of respondents reporting they would be participating more than in previous years (see table below). Cyclists and fishermen were also highly likely to plan on participating more, with nearly 2/5 of participants from both groups stating that they would prioritize the activity more this year.
On the other end of the spectrum, nearly half of the golfers surveyed expected to golf less this year in light of COVID-19. Similarly, over 2/5 respondents who actively participated in watersports and/or RV camping expected to be participating less this year.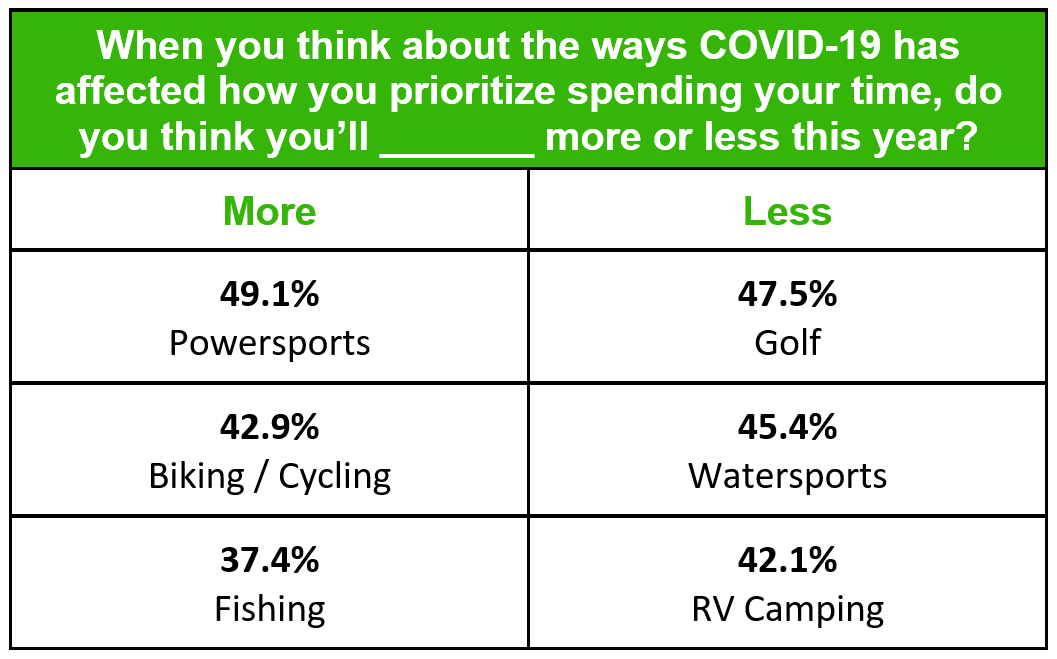 While travel restrictions or job losses have played a role in people prioritizing their outdoor recreation time, the risk of COVID-19 has meant finding a personal balance between participating and staying safe. Unsurprisingly, respondents who felt safe while participating in their recreational activities despite the threat of COVID-19 were much more likely to plan on participating more this year.
For instance, golfers who felt safe going out for a round despite COVID-19 were over 2x as likely to plan on golfing more this year than those who felt golfing during the pandemic posed a risk to their health (35.2% vs. 15%). Similarly, respondents who felt safe participating in powersports despite the threat of COVID-19 were nearly 20% more likely to be planning to participate more this year.
­
In outdoor recreation, social distancing is nothing new
As the pandemic grew, many state and local governments introduced broad safer-at-home orders, and for many of us, these orders necessitated major shifts in how we spent our spare time. However, the push for social distancing might not have been that different for some outdoor enthusiasts who already participate in social distancing as part of their hobby.
We asked outdoor enthusiasts about how closely they believe they were adhering to social distancing guidelines when spending time outdoors:
Activities that are often enjoyed as solo sports such as fishing, cycling and powersports already have some social distancing built in. These groups had the highest rates of respondents saying that they were social distancing "a lot" while participating (72.8%, 62.3% and 59.8%, respectively).
Activities that often require a group of people such as RV camping and golfing saw the highest rates of participants not prioritizing social distancing while participating (48.7% and 43.9%, respectively).
Social distancing and how it relates to safety
We also asked respondents how safe they felt participating in their respective activities considering the COVID-19 pandemic. Activities that naturally facilitate social distancing (fishing and powersports) earned the highest perceptions of safety (68.2% and 57.4%, respectively).
In fact, looking further into which respondents were prioritizing social distancing while participating in their activity of choice revealed a large discrepancy in how safe participants felt participating. Across all outdoor activities, respondents who reported social distancing "a lot" while participating in their respective activities were at least 10% more likely to feel safe participating.
For example, people who fish who reported social distancing "a lot" were 22.8% more likely to feel safe while participating than those who did not prioritize or engage in social distancing rules. Conversely, golfers and RV campers, who were the least likely groups to engage in social distancing, were 10% more likely to feel unsafe compared to their socially distanced counterparts.
Respondents less comfortable with group activities
While the eagerness to return to their respective outdoor activities varied among respondents, one thing respondents clearly agreed on was that their outdoor activities were far safer than group activities – especially indoor ones. In fact, outdoor enthusiasts felt that their activities were roughly 2-3x safer. Ranging from movies to trade shows, the majority of respondents strongly felt group activities posed the greatest risk to their health:
68.6% felt it would be unsafe to attend a concert or festival
66.2% felt it would be unsafe to attend a major sporting event in an arena or stadium
63.9% felt it would be unsafe to attend a trade show or convention
62.9% felt it would be unsafe to attend a movie or theatrical performance
56.7% felt it would be unsafe to participate in a group sport or activity outdoors
When compared to the various outdoor recreational activities measured, respondents were over 35% more likely to feel that attending a concert was unsafe for your health compared with participating in powersports. While 68.2% of people who fish felt that participating was very safe for their health, only 19.8% of people who fish could say the same for going to the movies.
Similarly, even as golfers were planning to reduce their rounds for the year, they still rated golfing over 3X less dangerous than attending a concert or festival (21.8% vs. 67.8%). Comparing these figures, it is clear that COVID-19 has had a significant effect on people's perceptions of what activities pose more risk to their health.
An outlook on outdoor recreation amidst COVID
As we navigate through the next few months of COVID-19 uncertainty, one thing is certain: People will remain eager to escape the confines of their homes. However, as a second wave of cases mounts and lockdowns loom again, how people spend their time with one another could be affected for the long haul.
While some outdoor enthusiasts eagerly look to recreational activities to cure  their cabin-fever, they will do so consciously. Social distancing and a risk of COVID-19 exposure clearly plays a role in plans for outdoor recreation this year.
Despite some dips in participation, we see a silver lining: This could be an exciting and possibly revolutionary time for the outdoor recreation category. Marketers looking to reignite passion for outdoor activities have an opportunity to emphasize the relative safety of their respective category, while at the same time providing the tools and education for a safer experience.
This is a unique moment to connect with the wide array of consumers who are interested in activities that will allow them to safely escape the confines of their homes during the pandemic.