The ICOM agency exchange intern diaries #2: pitch perfect.
By Michelle van den Berg
Only a few more weeks to go here at C-K—time flies! We're currently working on several new business
pitches and the final presentation for each will take place in the same week. Great timing (sarcasm). Oh,
and these deadlines are all during my last week too. Great timing (No, really, I mean it!) Now I can
experience the whole new business pitch process.
When there's a new business pitch, we first decide if we want to go for it. This depends on the brand
and the assignment. It is an important decision because pitches take up a lot of resources. Once we've
decided to go for it, we go all in. And by "we" I mean the whole company, all teams, departments,
managers. Together with an integrated team (that's also likely to work on the brand when we win– so
it's not just a "pitching team") we brainstorm and share knowledge and insights from our research
(data!) to make sure we are all on the same page. For the pitches I worked on, we brainstormed with
people from brand planning, analytics, media, PR/social and account management. C-K has its own "The Way We Work" model that provides useful guidance in all pitches and assignments. This model makes sure we understand the client's problem and how to solve it in service to the client's
business goals.
"We love your ideas, we would like to invite you to our final pitch in December" – the potential new
client.
YES! They like our first ideas!
After passing the first stage of the pitch process (this decision is made by the client and often depends
on a presentation about C-K and our ideas on the assignment), we continue working on our ideas,
gather more data and insights and start building a brief that will help the integrated team bring the
ideas to life.
Once the creative team puts their magical touch to the ideas, we fine tune until the final pitch. During
this process, we will also dig deeper to find more interesting ways to look at the client problem and gain
more insights and ways to convince our target audience.
With many pitches still underway, it's easy to guess what I'll be working on during my final weeks at C-K.
However, in addition to the new business pitches, I'm also working on my personal project. As there are
some young and talented people working at C-K, I came up with the idea for a 'junior board' that further empowers and challenges these high potential individual and prepares them for future management. I really enjoy working on this project.
Luckily, I have had time to do more than work. I have visited sports games (Go Bulls! Go Blackhawks!),
took an amazing helicopter and boat tour, discovered new brunch hot spots (adapting to
the American lifestyle as much as I can!) and much more. I thought we have cold winters in the
Netherlands…Well, I was wrong—it's gets a lot colder here!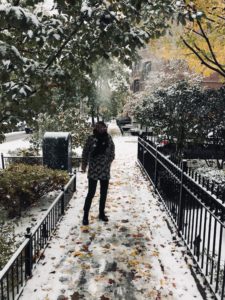 Chicago weather can totally change from one day to another. While I was walking around in shorts and t-shirts 3 weeks ago, I now need a fleece jacket and warm winter coat to stay warm. And this is not even real Chicago winter. There's more to come they say…
Don't hesitate to connect with me on LinkedIn or contact me by mail with all your burning questions,
feedback, comments, ideas or letters! I am more than happy to share my exchange experiences with you and help initiating future ICOM exchanges. #weshareatICOM
Save
Save
Save
Save
Save
Save