Threads vs. Twitter: What Brands Need to Know About the Rise of Instagram's Latest Platform
By Veronica McGhee, Search/Paid Social Director, E-Commerce Lead, and Alfonso Gonzalez, Search/Paid Social Specialist
THREADS: FROM 0-to-60
Unless you haven't been on social media or read or watched the news, you know Meta released their Twitter rival-like app, Instagram Threads, on July 5, and it's already reached more than 100 million signups (for reference, Twitter averages 56.1M active monthly users).
It's built by Instagram as a complementary app for sharing text updates and joining public conversations. And since Threads is built by Instagram, it's really easy to create a profile using the Instagram account, giving the new app a massive existing user-base to pull from and grow.
Threads allows users to like, comment, repost and share posts, and, like Instagram, provides options for controlling the audience that can reply to the posts. The feed on Threads includes threads posted by followed accounts and recommended content from new creators. Posts can be up to 500 characters long and include links, photos and videos up to 5 minutes in length. And, of course, posts from Threads can easily be shared to an Instagram story.
Brand content tools are rolling out – such as allowing influencers to have 'paid partnership' promotions – but no other advertising options are yet available until Threads reaches critical mass.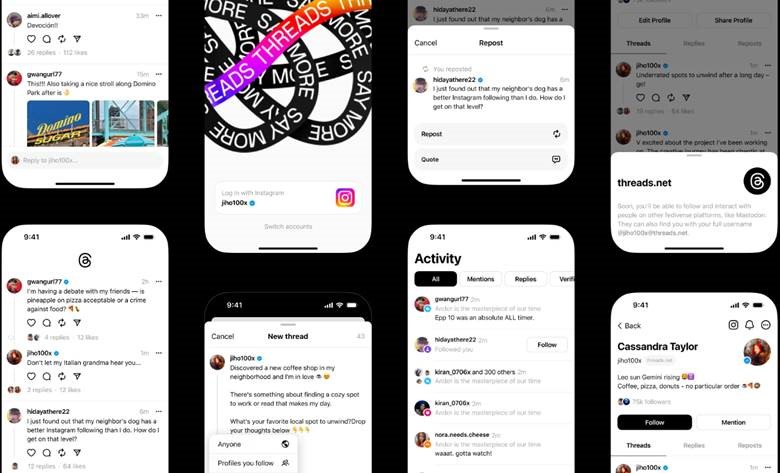 BRANDS FROM ALL INDUSTRIES ARE ALREADY POSTING
Many major companies have already set up accounts on Threads and have begun posting content organically. And they are having fun on the new platform with conversational tones using what's being called a first-person brand posting voice, essentially letting users know there's a person behind the brand account.
WHAT WILL HAPPEN TO TWITTER?
Twitter has seen a decrease in user and ad revenue activity since Elon Musk's takeover. Twitter saw a notable drop of 5% in user traffic in the first two days of Threads' presence. In relation to this time last year, usage decreased 11%, though part of that decrease is due to Musk's acquisition.
Musk has already shown his uneasiness with the introduction of Threads through a threatened lawsuit that accused Meta of "systematic and unlawful misappropriation" of trade secrets due to the number of previous Twitter employees now working at Meta.
Will Threads have staying power and attract a substantial user base? Kristin Babcock, C-K's director of digital platforms, says, "It's too early to tell if Threads will have long-term staying power in the social media landscape. While it may not be an exact replacement for Twitter, the potential for attracting a significant number of daily users exists. If Threads can garner a substantial user base, it is likely to attract advertising potential and subsequent investment from brands looking to reach this engaged audience."
Threads looks and feels very similar to Twitter, sans the politics and hard news – topics Instagram wants to avoid on Threads. Thus, Twitter will remain a platform for provocative conversations even as Threads gains popularity.
HOW BRANDS SHOULD THINK ABOUT THREADS
Not yet a replacement for Twitter.

Threads does not have direct messaging nor allows hashtags which are key features that drive discoverability and engagement for Twitter users.
Threads aims to offer an intimate social media experience whereas Twitter is about sharing news and information in real-time.

Threads is for real-time conversations.

Right now, content is served depending on who you follow with no particular order (such as chronological).
Brands on Threads post to conversations more frequently to engage with users in real-time.

More laidback than Twitter.

With no promotional tools on-hand, brands are engaging through means of giving away gift cards to users who engage with brands' posts (Anthropologie) and doing follow-for-follow strategies (SlimJim). Mattress brand Casper took to the platform and gained more than 11,000 followers on its first day and grew to 14,000 over the weekend. The brand's first move on the app was to have conversations with its users and other brands.
PREDICTIONS FOR ADVERTISING ON THREADS
Expect advertising capabilities in 2024… or before.

Advertisers will be able to optimize their campaigns across all Meta platforms from one Meta Ads Manager account.
Targeting will likely be more robust than Twitter, leveraging Meta's ability to target behaviorally (vs. by topic or conversions only).
Contextual targeting will be available, which will allow advertisers to target their ads based on the content of users' Threads – a tactics Meta has yet to develop.

More data for Meta and for advertisers.

Threads conversation data will give Meta more data to improve its targeting algorithms.

New features and incentives from Twitter

Twitter could realize new ad features and targeting tactics, such as more video format options and more partnerships to tap into new data segments and expand reach.
Twitter may also offer incentives to advertisers considering moving to Threads, such as discounts or better targeting options.
The goal for Threads is to eventually be the first decentralized social app, Thus, Twitter could integrate with other platforms, such as Instagram and TikTok, to make it easier for users to share content across platforms.