Milwaukee Lion Watch
By Christina Lewis & Al Vo
(Warning: Puns ahead.)
Last week, Milwaukee went wild looking for the Milwaukee Lion and the story continues this week with today's New York Times article. Of course, at the C-K Milwaukee office, we turned our attention to social media which erupted almost immediately after news of a lion being loose in metropolitan Milwaukee. Citizens created a handful of Twitter handles. Some came and went quickly, or didn't catch on (@MilwaukeeCourgar, @Milwaukeelion69, @MKE_Mtlion, and @MKELionKing) but @Milwaukee_Lion boasts a regionally respectable 2,500 followers. There have also been hundreds of memes, statuses, Instagram posts and tweets from people all over the city.
Local businesses have notably joined the hunt by pouncing on the trending #MKElion hashtag in order to display their social media personality. Businesses like VICI salon, Ian's Pizza, Oak Lounge Bar, the Milwaukee Zoo, Stubby's Gastropub, Milwaukee Art Museum, Discovery World Museum and BMO Harris Bank all have put their own twist on the strange lion situation in order to promote their brands and products/services.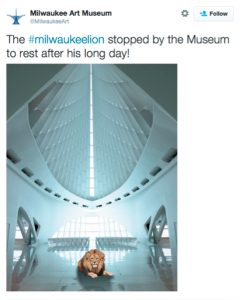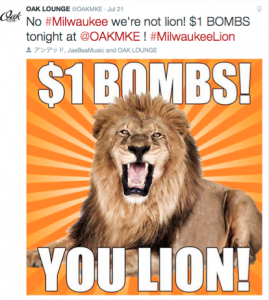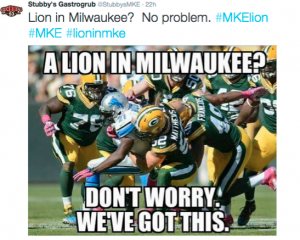 Locals have also tied in other popular Milwaukee culture lore. Memes have been created with the Green Bay Packers, "I closed Wolskis", the 414 area code and local pseudo celebrity the Milverine.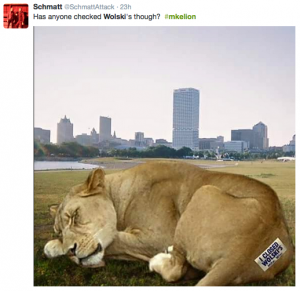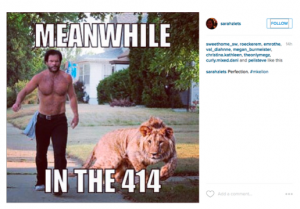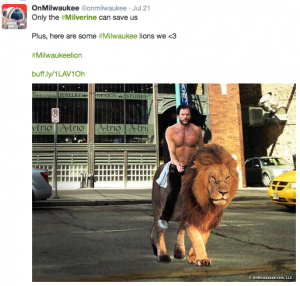 For fun, we checked a few more data points on the #MKELion story:
Posts containing #MKELion:
Tweets: 5,446
Facebook Posts: 101
Instagram posts: 610
Posts containing "Milwaukee" and "lion" together:
Tweets: 15,710
Facebook posts: 929
There was a 218% increase in social media posts geotagged in Wisconsin discussing the term "lion" from June to July, and a 253% increase in posts comparing May to July. So, these local businesses are doing the right thing, taking part in a strong regional conversation online. It's fun, a chance to show off a bit of wit and, if anything, the #MKELion has shown that Milwaukee is not afraid to roar with pride and show off all the things that make the city a uniquely great place to call home.