C-K Media Services: Our perspective is it can't be an isolated discipline anymore.
Ours is integrated, real time. All the time.
In today's hyperconnected world, if your media, strategic and creative teams aren't actually one cross-functional marketing team—highly coordinated, collaborative and aligned—then your present "integrated teams" are leaking at the seams somewhere. Worse, you're missing opportunities altogether.
At C-K, it's all here.
Programmatic media buying—paid, earned, shared and owned (PESO) marketing, social, search engine optimization (SEO), search engine marketing (SEM) and a data-driven group—all of whom operate as one with all of the other disciplines. No barriers. Totally interconnected down to the granular level—we even have local search in our mix, a powerful tool most media firms rarely consider.
We don't miss opportunities. We connect them.
C-K is one of the very few who can offer the optimization that comes from the interconnection between the numerous communication disciplines. No media agencies have that capability. That's powerful. That's different. And it so pluses standard media practices.
It's why many clients who originally came to C-K just for brand strategy or creative or social have re-bundled with C-K Media because the efficiency and the power of connected thinking between disciplines is just too potent to ignore.
And if you come just for our media, what you'll get is people who understand the needs of your other partners and will truly enhance your integrated efforts.
Oh, and we don't bank media.
We absolutely refuse to "acquire" banks of media time that are then prioritized and parceled out to our clients based on their size, importance or some vague volumetric that helps get rid of that inventory. With nearly $500 million in media assets under management, we provide the sophistication of customization that's so often lacking in the industry.
Our Model: Point of Impact ROI
We have a very different perspective on what moves the needle. We analyze each touchpoint along the consumer journey and determine what we call the Point of Impact ROI.
We isolate the absolute optimum moments of receptivity—moments most likely to produce behavioral shifts—so we can build programs of high impact with the highest probability of driving your business forward. And yes, that means a ton of data. A ton of analytics. But all of that by itself is no longer enough.
We require the Art of the Equation.
Successful brands thrive at the complex intersection of data and humanity. Statistics and data are most often about what happened or is. Rarely are they insights into what's next. Yet human beings aren't static. Their lives are increasingly complex. Moods change. Lives change. Interactions change. They are not in a bubble of set statistics. So, touchpoints, to become Points of Impact and actually move the needle, have to be approached differently.

We hire analysts, creative analysts, who interpret numbers, not merely list them; who look for what they tell us about what is next and then innovate, innovate, innovate to get us there before our clients' competition. Yes, of course, we practice the science, but we plus it big time with the Art of The Equation. Fast, smart and fluid. It's yet another one of our key differences.
PESO Marketing: the heart of how we think.
Paid, earned, shared or owned are not isolated opportunities.
For optimum results, they have to be interdependent. And when they are, their impact on your customer, and on your budget, is hugely magnified. Where you're intersecting with your audiences and with what has to be managed as one. Because consumers today can be anywhere and everywhere, all within days, hours, even minutes. And so are we.
We don't simply mirror the consumer media consumption dynamic, we leverage ideas and content across multiple areas. Our focus is not on how to spend your money, but on how to carry your message most effectively to your consumers to the most optimum place at the most optimum time.
And that takes PESO marketing thinking from the very start.
DesCK™—Programmatic Media Buying platform: a very different model
We have designed and built a programmatic model very differently from the standard approach.
Why? Because the programmatic landscape is challenged. It is anything but formulaic. Outsourcing programmatic, like many agencies do, is risky. And transparency in cost, inventory and data, too often, has issues.
So, we created our own proprietary programmatic media buying platform.
We call it DesCK™—Programmatic Media Buying. On average, our clients have seen savings of up to 40% on CPMs. Here's part of the reason why.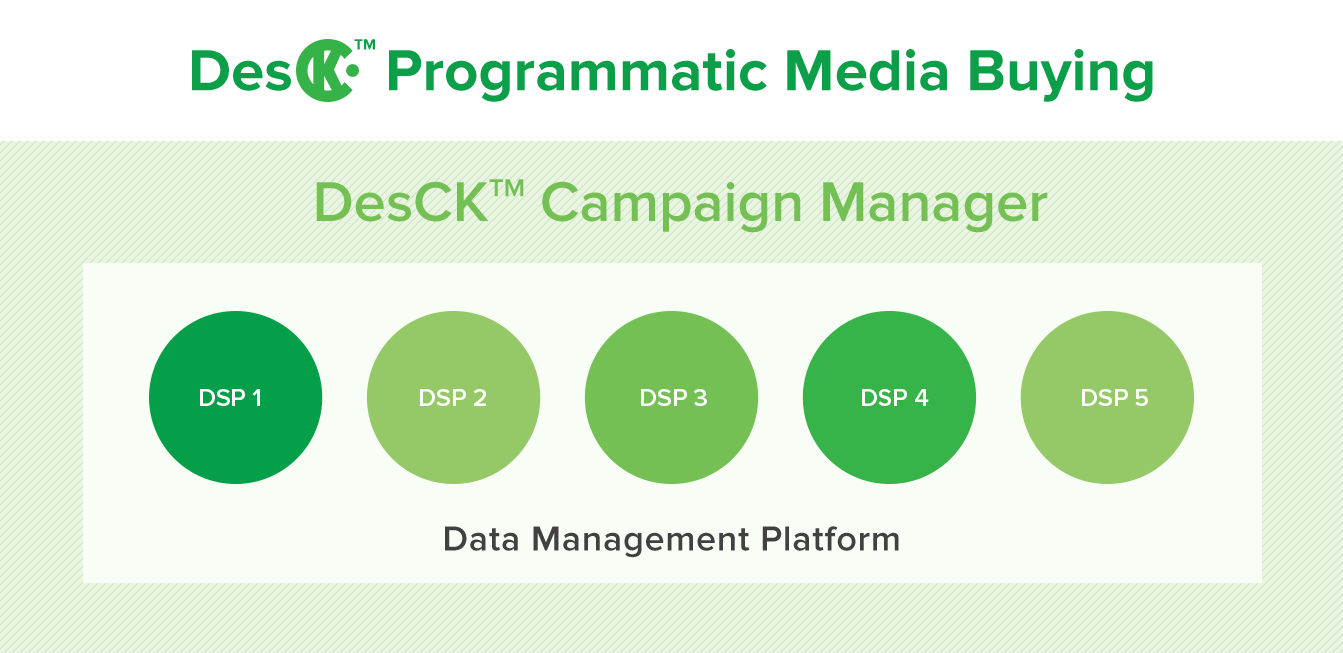 DesCK™ Programmatic Media Buying is built upon five founding principles:
Agents (Not Principals). Most media-only agencies act as principals, accumulating inventory for resale and distribution into clients' media plans. That's a self-serving bias. C-K acts as agent for our clients.
Unique, Multi-DSP Testing Platform That's a big, big C-K difference. Unlike most media agency programmatic offerings, DesCK™ was intentionally built with, and for, multiple best-in-class DSP platforms rather than the industry standard of one.
Transparency. Pricing isn't our only focus for transparency either.
Data. Information is critical to programmatic. We invested in and created a fully integrated, proprietary Data Management Platform (DMP) from the very beginning.
Interlocking teams. Unlike in most media agencies, our traders and planners are not isolated. Our team works closely together to leverage programmatic strategically for our clients.
Search Engine Marketing Services:
C-K's holistic approach
Search is no longer simple.
That's why C-K has a unique approach to this space—one that allows us to focus on the most useful, and profitable, interactions that consumers have with modern brands today.
C-K has 20+ search experts in-house, across multiple specialties. No longer can you "have a search guy." It's national. It's local. It's complex. And it should be a key component in any smart media effort.
National Search Engine Marketing
We have deep partnerships with everyone from Google to Microsoft, Yahoo! and YouTube.
For C-K, search is now not merely tactical, it's strategic. We build a hierarchy of KPIs that ladder up to your ultimate business goal and customize campaign structures that allow C-K to manage and optimize your campaign on a daily basis.
C-K Local Search is very different from national search
Over 80% of all search is to find local businesses. But nearly 70% of all location listings for companies online are in error. C-K Local Search are experts on the byzantine maze that is the local listing space of Google and other local listing companies. Google alone references over 100 sources to pull together their listings—and an error on just one of them often shows on your listing.
C-K Local Search finds the errors and fixes them. C-K Local Search can even create custom Search Engine Optimized landing pages for every one of your locations, with custom phone and digital tracking so you can better understand the true impact of all your local marketing.
Search Engine Optimization (SEO Services)
One of the biggest phrases in marketing today is "Content Is King." But if no one sees your content, just how regal can it be? Our Search Engine Optimization (SEO Services) team, working seamlessly with our National and Local Search teams, are experts in making sure the search engines, and through them consumers, can find your valuable content. The team specializes in making the invisible visible—on your website as well as on various social channels like YouTube and Facebook—ensuring that your brand is a critical voice and input to consumers as they navigate the decision-making process.